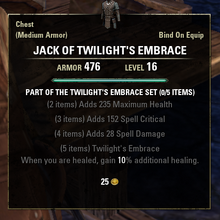 Main article: Item Sets
Twilight's Embrace is an item set available in The Elder Scrolls Online. This set is crafted in special crafting locations within each of the alliances.
An item that is enchanted with Twilight's Embrace will also have an enchantment called "Part of the Twilight's Embrace Set."
(2 Items) – Adds 235 Maximum Health.
(3 Items) – Adds 152 Weapon Critical.
(4 Items) – Adds 28 Spell Damage.
(5 Items) – When you are healed, gain 10% additional healing.
Locations
Edit
Appearances
Edit