The Underforge
Talk

2
19,057pages on
this wiki
The Underforge
Map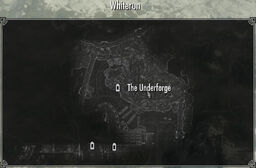 The Underforge is located beneath the Skyforge in Whiterun. This is where The Circle (of the Companions) meet to perform rituals. After the player becomes part of The Circle and thus a werewolf, all of the werewolf totems will be found here. In addition to its involvement in the Companions quest line, the Underforge serves as an escape route out of Whiterun.
Related quests
Edit
Curing yourself of Lycanthropy will disallow entry to the Underforge as well as the quest Totems of Hircine.
If one uses Klimmek's Supplies or Arvak to get onto the normally unreachable exit outside Whiterun, "To Underforge" will not appear and they will not be able to enter the Underforge from there. (Tested after becoming cured, unsure if a Werewolf could still enter.)

The hidden Underforge entrance right beneath the Skyforge

Added by

Vercinghetorix

The underforge exit is an abandoned tower that has been broken down. The tower is empty and is believed to be an old tower for Whiterun, but was destroyed in some past event.
The Player may be unable to re-enter the Underforge after completing the Companions Questline and/or if the Player is not a werewolf.
Appearances
Edit