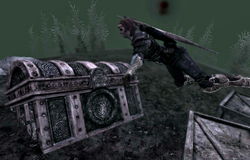 Underwater Locations are locations within bodies of water in The Elder Scrolls V: Skyrim.
Differences
Edit
Underwater locations can be hard to find, but Skyrim does possess several of these. Swimming is also safer than in past games as Horkers and Mudcrabs are limited to the shorelines and Slaughterfish are relatively rare.
Lakes, rivers, and other bodies of water in Skyrim
Edit
Quests that involve water
Edit
Underwater chest locations
Edit
Underwater entrances to locations
Edit
Appearances
Edit
Ad blocker interference detected!
Wikia is a free-to-use site that makes money from advertising. We have a modified experience for viewers using ad blockers

Wikia is not accessible if you've made further modifications. Remove the custom ad blocker rule(s) and the page will load as expected.