Ad blocker interference detected!
Wikia is a free-to-use site that makes money from advertising. We have a modified experience for viewers using ad blockers

Wikia is not accessible if you've made further modifications. Remove the custom ad blocker rule(s) and the page will load as expected.
For other uses, see Unique Weapons.
This page lists all Unique Weapons that can be obtained in The Elder Scrolls IV: Oblivion. Weapons range from swords and maces to war axes, warhammers, bows, and daggers.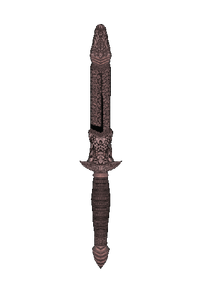 Unique weapons can be found during exploration or as quest items as part of a specific quest. Each of the weapons has a unique name and/or unique enchantment which set it apart from other weapons of that type.
Some of these weapons' damage scale according to the level they are acquired.
Weapon
Enchantments
Akavari Sunderblade
1500
18
15
Disintegrate Armor 100 pts on Strike
Disintegrate Weapon 100 pts on Strike
Captain Kordan's Saber
1700
8
10
Absorb Agility 10 pts on Strike
Absorb Endurance 10 pts on Strike
Absorb Blade 10 pts on Strike
Renault's Akaviri Katana
0
18
15
None
Glenroy's Akaviri Katana
0
18
15
None
Baurus's Akaviri Katana
0
18
15
None
Shimmerstrike
31
5
9
Frost damage 5pts on Strike
Light 100 for 5 sec on Strike
Debaser
528-6028
18-40
11-24

Drain Willpower X points for 20 secs
Drain Endurance X points for 20 secs
Two-handed blades
Edit
Weapon
Enchantments
Akavari Warblade
2000
24
16

Damage Fatigue 30 pts on Strike
Damage Health 15 pts on Strike
Damage Magicka 30 pts on Strike

Rugdumph's Sword
740
28
14

Absorb Speechcraft 5 points for 5 seconds
Silence for 5 seconds
Weapon
Enchantments
Truncheon of Submission
1700
8
10
Damage Fatigue 50 pts on Strike
Restore Health 20 pts on Strike
Calliben's Grim Retort
2879
31
18

Absorb Strength 5 pts 20 seconds
Absorb Blunt 8 pts 20 seconds
Frost Damage 10 pts
Two-handed blunts
Edit
Weapon
Enchantments
Destarine's Cleaver
2400
26
15

Damage Strength 5 pts on Strike
Damage Endurance 5 pts on Strike

Battleaxe of Hatred
7400
40
10
Damage Strength 5 pts on Strike
Damage Endurance 5 pts on Strike
Damage Willpower 5 pts on Strike
Weapon
Enchantments
Bow of Infliction
4000
20
18
Damage Agility 5 pts on Strike
Drain Marksman 15 pts for 60 secs on Strike
Weapon
Enchantments
Apotheosis
3500
10
Fire Damage 33 pts on Target
Frost Damage 33 pts on Target
Shock Damage 33 pts on Target
Goblin Shaman Staff
188
10
Shock Damage 5 pts on Target