Unmarked Locations (Skyrim)
Talk

15
For other uses, see Unmarked Locations.
Unmarked Locations are places that are not marked as icons on the world map upon discovery. There are many places on the world map that are unmarked but contain treasure chests, items, or interesting characteristics that can be easily missed by the wandering adventurer. Locations like these are often camps, fields, shacks, shrines, or ruins. The following is a list of these locations for each of the Holds.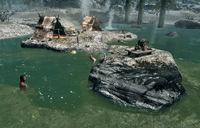 The Silvermoon - An underwater shipwreck in Lake Ilinalta with a leveled weapon, and a chest containing a random amount of gold. Just south of The Lady Stone, the top of a broken ship's mast sticks out of the lake. (Official guide map marker 8.O)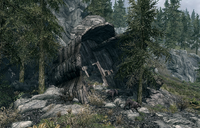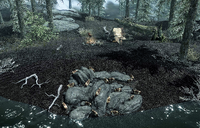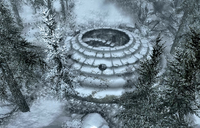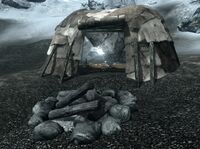 The Burning Farmhouse - Found east of Lost Tongue Overlook and directly south of Broken Helm Hollow surrounded by mountains. Inside the house is an unlocked chest as well as a Scroll of Conjure Flame Atronach, which is likely why the house is burning. The Destruction skill book Horror of Castle Xyr is hidden under a hollow fallen tree. (Official guide map marker 9.X)
The Three Sentinels - Three guard towers on the road north of Riften. Each tower has a chest with "confiscated goods", it's not stealing to take the loot or anything else from these towers. (Official guide map marker 9.U)
Trapper's Dilemma - In the forest east of Fort Greenwall is a rusty cage containing a wolf. If one frees the wolf, two trappers will appear from behind a rock and will attack. If the wolf survives, he'll remain around the cage. (Official guide map marker 9.S)
Treasure Hunter's Camp - East of Lake Geir, small camp with a smoking camp fire. There's a note with directions to the treasure at Treasure Hunter's Island. (Official guide map marker 9.D)
Treasure Hunter's Island - South of Nilheim on Lake Geir is a treasure chest on an island along with two treasure hunters. (Official guide map marker 9.E)
Troll Den Rkund - West of the Ruins of Rkund is a Nordic barrow built into the mountain. There's no way to enter the barrow, but there is a chest and a troll to loot. (Official guide map marker 9.O) A short walk to the east of the Troll Den find the Lockpicking skill book Proper Lock Design next to a fallen birch tree.
Trolled Stormcloaks: Darkwater Overhang - Heading north down the path from Ivarstead is a rocky outcrop inhabited by a troll. The cave contains the bodies of two Stormcloaks as well as an Orichalcum ore vein. One body carries a note as well as the Heavy Armor skill book Chimarvamidium. (Official guide map marker 9.A)
Tumbledown Tower: Riften Outskirts - Southeast of Riften, along the main road, a single ruined tower hides two bandits waiting for an ambush. One of the bandits has the two handed skill book King. There's also a chest. (Official guide map marker 9.W)
Two Pine Ridge - Exactly east of Stendarr's Beacon, just downhill from Flagged Troll Lair, (see above), is a single bed roll under a tree, next to a pickaxe and 2 books, including the Sneak skill book 2920, vol 08 - Last Seed. (Official guide map marker 9.Z)
Water Slide Chest - North of Nilheim, down a very long water chute, is a lone chest in a narrow canyon before another large waterfall.
Wild Animal Den: Crystaldrift Cave - Just around the corner from Crystaldrift Cave's entrance is an animal den. There's no treasure chest here. (Official guide map marker 9.P)
Wild Animal Den: Mistwatch - South of Mistwatch and northeast of Clearspring Tarn is a simple animal den with little to loot. (Official guide map marker 9.I)
Wolf Den: Shor's Stone - Southeast of Shor's Watchtower is a den with a dead bandit. (Official guide map marker 9.R)
Wood Cutter's Camp: Lake Geir - South of Lake Geir close to the road to Ivarstead, woodcutter slain in his camp. (Official guide map marker 9.B)
To the southwest of Darkwater Pass, to the left when climbing up the path towards Ivarstead and near a corundum ore vein, are some barrels and an empty sack next to the Pickpocket skill book Aevar Stone-Singer. This is located just north of the water slide chest described above.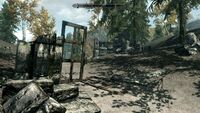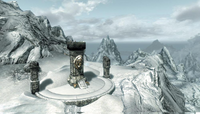 The following are unmarked locations found only in the The Elder Scrolls V: Dragonborn expansion:
Spiky Grass Island - South of the Earth Stone lies an island with crumbling ruins. Atop are dead Reavers, spiky grass plants, Ash Hoppers, and one Heart Stone deposit.
The Ever-Anchored Ship -
Waterfall and Grazing Netch -
Mudcrab Tidal Pools -
Riekling Chest -
The Fisherman's Haul - North of Bloodskal Barrow, inhabited by a Bristleback.
Riekling Barrel Hoard - North of Damphall Mine lies a wooden platform with many barrels, crates, and a chest. When approached, Rieklings will pop out of the barrels in an ambush.
Horker Iceberg - Northeast of Northshore Landing is an iceberg island with several horkers and stalhrim deposits.
White Ridge Barrow Hut -
Forgotten Spoils -
Desolate Hunter's Camp -
Shrine of Kynareth (Solstheim) - A Shrine of Kynareth north of the Earth Stone and near Bloodskal Barrow.
Shrine of Zenithar (Solstheim) - Near Moesring Pass. A Shrine of Zenithar accompanied by various geodes.
Solstheim Dragon Mound - North of Frossel and Haknir's Shoal is a triangle of islands, and northwest of them is a dragon mound.
Giant Nirnroot Island - A small rocky isle with six giant Nirnroot plants.
Riekling Island - A small rocky isle containing a medium sized Riekling camp and several Rieklings.
Lurker Ambush Tidal Pool - Due west and north-west of Haknir's Shoal is a tiny bay that a Lurker will appear in when approached.
Temple of Miraak: Secret Exit -
The Unfortunate Miner - A scene of a tragic mining accident, southeast of Tel Mithryn.
Usha's Camp - The hidden camp of a dead Argonian called Usha.
Isinfier Dragon Mound - A dragon mound located directly west of Vahlok's Tomb, atop some rocks.
Dunmer Camp Ambush - Directly east of Vahlok's Tomb in the forests.
Reaver Camp - Southeast of Ramshackle Trading Post.
Fahlbtharz Grand Hall - It is an location only seen on the Local Map and is the exit lift out of Fahlbtharz. It is south of Fahlbtharz and north of the Abandoned Lodge. It is directly west of the Altar of Thrond.
Appearances
Edit