Unmarked Locations (Skyrim)
Talk

12
19,064pages on
this wiki
Unmarked Locations are places that cannot be found on the map. There are many places on the world map that are unmarked but contain treasure chests, items or interesting characteristics that can be easily missed by the wandering adventurer. This is a list of these locations for each of the Holds.
Eastmarch (Windhelm)
Edit
Falkreath Hold (Falkreath)
Edit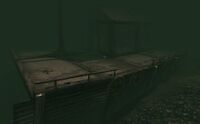 The Silvermoon - An underwater shipwreck in Lake Ilinalta with a leveled weapon, and a chest containing a random amount of gold. Just south of The Lady Stone, look for the top of a broken ship's mast sticking out of the lake.
Fairy Circle - A strangely grown circle of fungi, a few steps South-West of Bilegulch Ridge Dragon Mound.
Haafingar (Solitude)
Edit
Hjaalmarch (Morthal)
Edit
Summoning Stones - A mysterious ruin frequented by Falion of Morthal. It can be used to cure Vampirism.
Ghost Barrow - A ancient Nord mausoleum with an adept locked trapdoor guarding a grave with a few weapons. Northeast of Kjenstag Ruins. Complete the Kjenstag Ruins mini-quest to access the grave.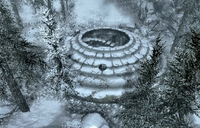 The Pale (Dawnstar)
Edit
Lover's Tent - East of Dawnstar Sanctuary is a tent with many wild flowers and an Amulet of Mara inside.
Mammoth Burial Pit - West of Loreius Farm is a pit with mammoth skeletons, a fresh dead mammoth, and the only two known poachers in the game. One of Kyne's Sacred Trials takes place here.
Viinturuth Dragon Burial Mound - West of Anga's Mill by the roadside. A locked chest lies behind one of the pillar stones.
Just west of Anga's Mill is a lone tent and campfire near a pond and waterfall. A skeleton, barrel and locked strongbox are hidden behind the waterfall.
Frost Troll Lair - West of Dawnstar, a rocky outcropping is home to a Frost Troll. At the back of the cave is the Block skill book Death Blow of Abernanit and an unlocked chest.
Burned Down House - South of High Gate Ruins is a burned down house with various household items scattered. There is also a burned down horse carriage near the front with a burnt corpse next to it that is still on fire.
Sunken Treasures - North west of the Wreck of the Brinehammer in the Sea of Ghosts lies a sunken chest with leveled loot.
Mammoth's Rest - West of the Tower of Mzark a dead Mammoth can be found, laying in the snow. Just behind it a Giant stands in some sort of cave/roof, with remains of other animals around him.
The Reach (Markarth)
Edit
Juniper Shrine - Northwest of Valthume, further up the path from the small Forsworn camp above, is a small dwemer ruin with a planted Juniper tree. Behind the tree is an unlocked dwemer chest and the skill book Enchanter's Primer.
Dead Forsworn camp - Southwest of Bthardzam is a small forsworn camp with two dead Forsworns apparently killed by a nearby Frost Troll. Notable items include the Destruction skill book The Art of War Magicand a number of pelts. There is a silver ore vein nearby and a quicksilver vein further up the mountain.
Animal Meal - South east of Harmugstahl and slightly east of the river on a rocky terrace by the banks, a leveled animal guards the body of a dead bandit. Next to the body is the Destruction skill book The Horror of Castle Xyr. A Silver Ore vein can be found nearby.
Abandoned horses - North-east of Karthwasten, over the river, 2 horses without owners are standing between trees.
The Rift (Riften)
Edit
Shrine of Talos - South of Froki's Shack is a Talos statue and shrine with gold and some books, including the Two-Handed skill book King.
Collapsed Nordic Ruin - Directly south of Largashbur. Most easily accessed after the quest Repentance, it is found by going directly west from the back entrance of Darklight Tower. It is easy to see from a distance, as there is a large pillar adjacent to it, as well as some stairs. The ruin has no entrance, and the only inhabitant is a single Troll. One chest is found in the ruin. A short walk to the east, the Lockpicking skill book Proper Lock Design can be found next to a fallen birch tree.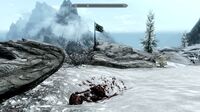 Winterhold Hold (Winterhold)
Edit
Altar of Xrib - Located southwest of Winterhold. It's an ancient sacrificial altar, surrounded by a piles of bones. Among the bones are a Skill Book and random offerings.
Dead man's Treasure - On the very large island north-east of the Wreck of the Winter War is a raised flag with seven - nine gold ingots and a Pickpocket skill book. Stuck in the wooden crate may be found A Hallowed Dwarven Dagger, (Damage 14 weight 3.5 value 828 - undead up to level 21 flee for 30 seonds), which may be dislodged using spells or shouts if it does not automatically trigger the pickup option. (X-Box 360)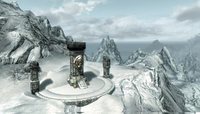 Whiterun Hold (Whiterun)
Edit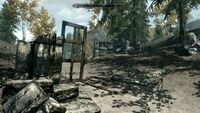 Appearances
Edit