Let's see... I love Skyrim and Oblivion. No, I haven't
played Morrowind, Arena or Daggerfall, but I still love the series, I've mostly added bits and pieces to pages on this Wiki, nothing huge, but every little helps.
The Elder Scrolls IV: Oblivion
Edit
I've only got one character on Oblivion, but that's because of the first quest and getting through the sewer. I found that quest tried my patience too much.
Despite this, I do love Oblivion, and in my tiny house on the waterfront, the chest of drawers and the chest are so full of armour and weapons that the game can't even show everything all at once. I've completed the main questline, and I'm working my way through the guild questlines as I go, but that'll take time, as I mostly play Skyrim now.
The Elder Scrolls V: Skyrim
Edit
Unlike Oblivion, because the first quest in Skyrim is nowhere near as annoying, I've got 8 characters on it, each whith a slightly different take on gameplay: an all-rounder Nord, a slealth focused Khajiit, a vampire Argonian, a High Elf mage, a heavy weapon focused Orc, a sort-of-all-round Imperial, a Dark Elf mage and a one handed weapon focused Redguard.
I much prefer Skyrim to Oblivion, and I've almost played as long on it, despite having it less than half as long. Can't sav I've done more on Skyrim, though... I think the world is just so much better to explore than Oblivion was, so I haven't progressed too much with the main questline.
My Wiki stuff
Edit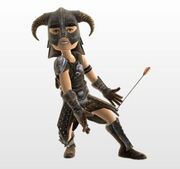 I've edited quite a lot of pages since joining the Wiki, adding information, ading categories, but not everything I've actually edited is registered, seeing as I did some eiting as "A Wikia Contributor". That said, you can see most of what I've done now, as I've done most of my editing, on this Wiki, at least, since making a Wikia account.
Bethesda Forums
Edit
I'm on the Bethesda Forums, with the user Benji7, if you want to look me up.
Achievement unlocked:
Edit
On my second day (06/06/12) on the forums, I've managed to spark a rather large argument on my "Easter egg?" topic. It seems that there is was massive debate between three or four people about whether it was an Easter egg or not, but it seems to have calmed down... on the third page.
Other Wikis
Edit
I've done a bit on other Wikis, including the Just Cause, Assassin's Creed, Deus Ex, Red Dead and Fallout Wikis (as well as several others). Although, as it has with this one, some (if not all) of my editing was done before I created an account.