Administrator
"In these difficult times, we must count on persons such as you to secure our borders from bandits and rabble-rousers. We all profit by your lawful pursuit of the unlawful." — Countess Alessia Caro

This user is an Administrator on TESWiki. Dedicated to serving and protecting the wiki, these users have the ability to revert undesirable edits, block troublesome users, protect pages from being edited, and are over-all, community leaders and mentors. Questions, comments, and concerns for this administrator should be posted to their talk page.

"It is costly wisdom that is bought by experience."
―Roger Ascham

"In the end, it's not the years in your life that count. It's the life in your years."
―Abraham Lincoln

"I am not afraid of an army of lions led by a sheep; I am afraid of an army of sheep led by a lion."
―Alexander the Great

"Never interrupt your enemy when he is making a mistake."
―Napoleon Bonaparte

"You must understand, young Hobbit, it takes a long time to say anything in Old Entish. And we never say anything unless it is worth taking a long time."
―Treebeard

"I always wanted to be somebody, but now I realize I should have been more specific."
―Lily Tomlin

"Dear Humanity... We regret being alien bastards. We regret coming to Earth. And we most definitely regret that the Corps just blew up our raggedy-ass fleet!"
―Sergeant Avery Johnson

"But what if you miss?
--I won't."
―Cortana & Master Chief
Hey i'm Kennyannydenny and i'm an administrator here on the wiki. If you have any questions, please ask them on my talk page. I work hard to make sure there will be an article for every NPC/Beast in Skyrim. And I add to Morrowind pages. I joined this wiki after buying Skyrim for the Xbox 360. Later, I obtained Morrowind for the pc and Oblivion for the Xbox 360. I've played Skyrim quite some time and buy every dlc on the first day possible. I've spend a total of 694 hours and twenty-eight minutes for my character.
Unfortunately I can't make any good pictures of characters, because I only have Skyrim on the Xbox 360 and making a photo of a TV screen becomes really ugly. So sorry, but every page of Skyrim that I make, still needs a picture added. I can make pictures for Morrowind.
Fishy Stick
Edit
Have a fishy stick!
Jimeee has awarded you a Fishy stick! For working hard on updating our Dawnguard pages. If only we had more people like you!
User Boxes
Edit
| | |
| --- | --- |
| | This TESWikian is an expert on Skyrim. |
| | |
| --- | --- |
| | This TESWikian plays on the Xbox 360. |
| | |
| --- | --- |
| | This user is knowledgeable about Oblivion. |
| | |
| --- | --- |
| | This user knows a few things about Morrowind. |
The Elder Scrolls games i have:
To do list
Edit
Adding levels to all skyrim characters - Done, a long time ago.
Implementing the new ingredients of Dawnguard, Hearthfire and Dragonborn into the lists - Done.
Fixing all pages around the Imbuing Chamber and the spiders added by Dragonborn. - Done together with Jimeee.
Making sure every Morrowind spell has its own page and in decent form. No stubs!
Ever ongoing things
Edit
Fixing links to disambiguation pages.
Formatting pages.
Adding info.
Making the number of pages in the "Pages missing data" categories as low as possible
Skyrim Character
Edit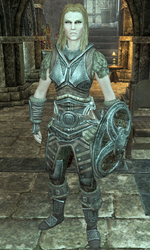 My Skyrim character is a Redguard born to be a fighter with sword and shield. After a long time he bought every house available in the game and married Jordis the Sword-Maiden and stayed to live in Solitude. Later, he moved to Lakeview Manor with his wife. He keeps Lydia as his steward there and adopted Runa Fair-Shield and Lucia as his daughters. They got Sceolang and Cotton as pets. Together they live happily with the bard Llewellyn the Nightingale and the carriage driver Gunjar.
His house consists of an small entrance with a large main hall behind it. Build against the building are a kitchen, trophy room and a greenhouse.
He tries to collect every unique item ingame, but has lost some of them through stupidiness (selling them and loosing them forever).
He collects weapons, misc. items, quest items, food, ingredients, as long as it is unique (except for books).
He mostly spends his time in Whiterun where he has invested in all the shops available. He sells all his items there, especially at War Maidens. He just became lvl 78 and raised most skills to lvl 100.
All the possible quests, have been done by him, including the quests for the Dawnguard. He has been through every dungeon in the game and cleared them all at least once.
He became leader/member of all the possible "clubs", College of Winterhold, Companions, Bard's College, Thieves Guild and the Dark Brotherhood.
The Redguard recently started travelling to Solstheim and uncovering any secrets there. He's still in the process of doing this.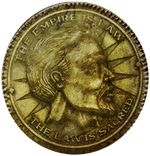 Gold Found: 2767540
Locations discovered: 415
Dungeons cleared: 551
Days passed: 1682
Chests looted: 3229
Skill increases: 1461
Books read: 643
Barters: 25360
Quests completed: 139
Misc Objectives completed: 436
People killed: 3397
Animals killed: 1784
Creatures killed: 1287
Undead killed: 1972
Daedra killed: 148
Automatons killed: 347
Spells learned: 110
Words of power unlocked: 87
Dragon Souls Collected: 189
Times Shouted: 493
Ingredients harvested: 3391
Potions mixed: 1030
Weapons made: 374
Total lifetime bounty: 13045
Items pickpocketed: 8507
Items stolen: 8765
Pages I've started
Edit
See: User:Kennyannydenny/Started pages
I encountered a total of 102 bugs of which 13 bugs are fixed. I made a list of encountered bugs here: User:Kennyannydenny/Bugs.
Random funny pics
Edit