Elder Scrolls enthusiast.
Friend to the Daedra.
Morrowind fanatic.
Currently simplifying and reorganizing the morrowind armor section. Help is appreciated!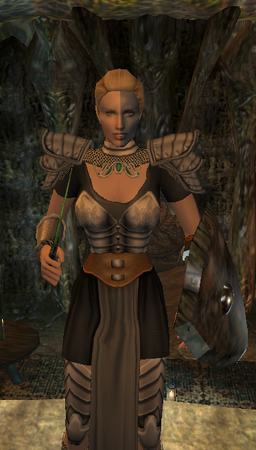 On Skyrim:
Skyrim is an overall great game with fun new interactions and activities. I love the crafting part of the game, which is new to the series, and am pleased with the improved follower AI. Visually, the game is impressive, especially when it comes to caves. In previous games, the caves and dungeons all felt like mole holes. Tight, dark, and boring. Some of the caves in Skyrim are... stunning, to say the least.
The only thing that disappointed me with Skyrim was how short the game was. All of the questlines seemed rushed. I did a few things, then suddenly I'm Arch Mage? It didn't seem right. I still felt like a new student to the College. In Morrowind and Oblivion, it took ages to reach the top. And I liked that. This goes for all the factions. It all just seemed rushed. If only these questlines had been extended to lengths and depths as they had in prior Elder Scrolls games, I feel like Skyrim would be almost perfect. Nords had always been my class of choice, mostly due to my own Swedish heritage, and the beauty of the land is breathtaking. It seems Skyrim has much more culture than Cyrodill, which I found quite dull, and I hope future games continue to capture the culture of each land.