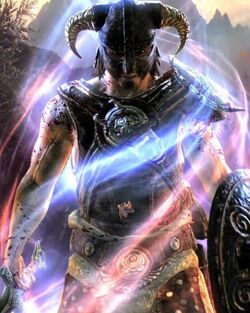 "I saw a vandal the other day, terrible creatures."
―The Milkman
The Milkman is a Milk drinker who fells all foes before him with his mighty battleaxe. From the Ashlands of Vvanderfell, to the depths of Oblivion, to the farthest reaches of Skyrim, to the darkest corners of the Shivering Isles, the Milkman always delivers.
Always.
More Milkman
Edit

"I always Deliver. Always."
―The Milkman of Legend
I am The Milkman, and I have been on board since Oblivion. It's still one of the best games I have ever played, and it never ceases to enthrall me. When I first got my PlayStation 3, my very first game was Oblivion. Later on, my mate gave me a copy of Morrowind, which I thoroughly enjoyed. When word of Skyrim came my way, I pre-ordered without thought or hesitation. When 11.11.11 rolled around, me and three other friends played it all through the night, me having the honour of experiencing it on a big-ass projector.
Here on TESWiki and all around Wikia, I enjoy writing blogs and delivering Milk. I am currently a member of the news team, in case you were wondering why my link is a badass shade of baby blue.
Add me on PSN if you want to play, chat, or message me.
If you want to email me: MojaveMilkman@gmail.com
| | |
| --- | --- |
| | This TESWikian is a male. |
| | |
| --- | --- |
| | This TESWikian plays The Elder Scrolls on PlayStation3. |
| | |
| --- | --- |
| | This TESWikian is a Grammar Nazi. |
| | |
| --- | --- |
| | This TESWikian is a member of the Blades. |
Characters
Edit
The following is a select list of my characters throughout the Elder Scrolls series. I like making characters.
Alkäli is Nord warrior and Legion Legate.
Edge is a Dark Elf hailing from Morrowind. Born in Balmora, he fled his homeland in the aftermath of the Red Mountain Crisis, evenually arriving to Skyrim seeking a better life (and possibly a few wenches as well). In a botched attempt to sneak across the border however, he was captured and detained.
Primary Skills:
Secondary Skills:
Contacts:
After escaping Helgen, he headed north. He was accomponied by the Bosmer Faendal, he made his way to Dawnstar. There, he met a fellow Dunmer named Erandur. Though he was suspicous of the so-called priest of Mara, he agreed to help him in his quest to rid the town of Vaermina's influence. The two quickly became good friends, and after destroying the Skull of Corruption in Nightcaller Temple, they set out for adventure.
The two continued along the coast and headed south, where they arrived at the back door of Windhelm. They had hoped to find good company amongst their fellow Dunmer, but weren't a cold welcome by the local Nords. They stayed the night (reluctantly) before hitting the road. As they headed south, they looked on in awe as they beheld the transition from arctic wasteland to autumnal forest. They were in the Rift, and Edge was immediately smitten by the scenery. They continued their leisurly stroll (notwithstanding the occasional Troll) until they happened upon the appropriately named town of Riften, sitting on the edge of Lake Honrich. Using his silver tongue, he managed to get through the gates without paying the "gate tax". Edge could identify with the seedier elements in the city, with whom he would have to get well acquainted if he was going to find his fortune.
After asking around town, he started doing jobs for anyone with the right amount of coin in their pocket. Eventually, he started working for the Jarl herself. He decided he would need a hub for all his adventures, so after stashing away a few thousand Septims, he purchased Honeyside and became a resident of the Rift. It was in Riften he "acquired" his faithful steed, Frost. After many grand adventures in the the Rift, Edge and Erandur went their seperate ways. As a new recruit of the Thieves Guild, he needed to shut down Honningbrew Meadery in Whiterun. He and his Housecarl, Iona, set out for Whiterun Hold with Frost in tow. Unforutunatly, he had to deliver some skimmed Black-Briar Mead to Ivarstead. In Ivarstead, he was lured into the nearby Barrow that was supposedly haunted. Drawn in by the lure of treasure, he investigated it for Wilhelm. After discovering the alleged "ghost" was really just an insane treasure hunter, Wilhelm gave him the Sapphire Claw for his troubles. With the claw in hand, he unlocked the door puzzle and ventured inside. At first, it seemed that waves of undead would be all he found. But then, in the inner sanctum of the barrow, he found a massive wall with strange writing on it. When he approached it, he felt... stronger. He didn't know what it meant, so he plundered the loot and continued on his way to Whiterun with Iona.
Once in Whiterun, he knew a heavily-armoured Housecarl would be of little use in a job requiring finesse and subterfuge. They split up at the city gate, and Edge walked inside the The Drunken Huntsman, and straight into destiny. There he met Jenassa, a rougish mercenary who agreed to fight at his side for 500

. He took her on many jobs for the theives guild, and quickly fell in love with the Dunmer lass. The two courted, and on the 1st of Sun's Dusk, the two were married. In attendence were Amren, Faendal, Iona, and of course, Erandur. They now live in Honeyside together.
Caesar is a Wood Elf warrior who hails from the town of Chorrol in Cyrodiil. When the Great War started, he fled north into Skyrim, and straight into an Imperial ambush.
Primary Skills:
Secondary Skills:
Contacts:
Sanguine
Edit
Sanguine is an ancient vampire who has walked all across Tamriel in his endless bloodlust. He is a timeless necromancer of unimaginable power. Also, he can shout and stuff.
Primary Skills:
Edvard is a Nord that hails from the town of Bruma in Cyrodiil. Fed up with the Empire, he returned to his people's homeland to find himself.
Primary Skills:
Secondary Skills:
Contacts:
Ahtar -- Headsmen of Solitude. The two joined forced after Eddie cleared out a bandit cave for him. Found at Castle Dour.
After escaping Helgen with Ralof, Edvard made his way to Whiterun. There he defeated the dragon attacking the city, and became Thane of the hold. In Whiterun, he joined the Companions, where he would quickly rise through the ranks. He joined the circle and became a Werewolf, a power he wasn't about to waste. After slaughtering a Silver Hand camp, he headed for the nearby Windhelm, where he joined the Stormcloak Rebellion.