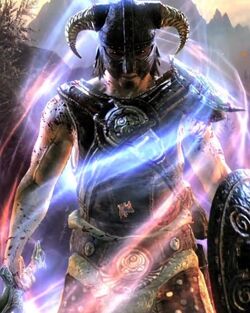 "I saw a vandal the other day, terrible creatures."
―The Milkman
The Milkman is a Milk drinker who fells all foes before him with his mighty battleaxe. From the Ashlands of Vvanderfell, to the depths of Oblivion, to the farthest reaches of Skyrim, to the darkest corners of the Shivering Isles, the Milkman always delivers.
Always.
I am The Milkman, and I have been on board since Oblivion. It's still one of the best games I have ever played, and it never ceases to enthrall me. When I first got my PlayStation 3, my very first game was Oblivion. Later on, my mate gave me a copy of Morrowind, which I thoroughly enjoyed. When word of Skyrim came my way, I pre-ordered without thought or hesitation. When 11.11.11 rolled around, me and three other friends played it all through the night, me having the honour of experiencing it on a big-ass projector.
| | |
| --- | --- |
| | This TESWikian plays on the PlayStation3. |
| | |
| --- | --- |
| | This TESWikian is a Grammar Nazi. |
| | |
| --- | --- |
| | This TESWikian is a member of the Blades. |
Characters
Edit
Alflagondorf
Edit
Alflagandorf is an adventurer living in Falkreath Hold.
Companions
Edit