Administrator
"In these difficult times, we must count on persons such as you to secure our borders from bandits and rabble-rousers. We all profit by your lawful pursuit of the unlawful." — Countess Alessia Caro

This user is an Administrator on TESWiki. Dedicated to serving and protecting the wiki, these users have the ability to revert undesirable edits, block troublesome users, protect pages from being edited, and are over-all, community leaders and mentors. Questions, comments, and concerns for this administrator should be posted to their talk page.
Introduction
Greetings!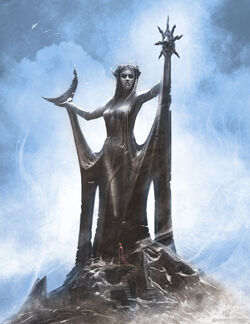 I am TombRaiser, one of the bureaucrats here on the wiki. I am also an operator of a bot which is used for monotonous maintenance tasks. I've been editing here for two years now but it certainly feels like I've been here for ages! Recently, I was invited to visit the Wikia HQ in San Francisco to discuss ways we can improve our wiki and to provide and receive feedback on current and future wiki features. You can often find me performing maintenance on pages, updating articles with correct information, as well as keeping up to date on the latest consensus topics in the Consensus Track board. From time to time, you may find me hanging out in the IRC and Wikia Chat, interacting with other members and staff.
I have been making a point to fact check content in accordance with the Construction Sets of Morrowind and Oblivion, and Creation Kit of Skyrim, as I have those tools at my disposal. I don't mod in any serious way, but I do know my way around the CS/CK data files fairly well.
As for The Elder Scrolls games, I started with Oblivion, which was back in 2009. I recently started to play Morrowind, but ended up jumping right into Bloodmoon instead. I thoroughly enjoyed Skyrim and the add-ons Dawnguard and Dragonborn. As for Hearthfire, it was a nice change of pace after much adventuring.
I am currently taking a break from The Elder Scrolls Online.
Userboxes
| | |
| --- | --- |
| | This user is knowledgeable about Skyrim. |
| | |
| --- | --- |
| | This user plays on PC via Steam. |
| | |
| --- | --- |
| | This user is knowledgeable about Oblivion. |
This user is a skilled

Archer

.
Maintenance & Logs
Click to show
Page maintenance
Image maintenance
Bookmarks
TES Mods Wiki
Force action
Monobook: ?useskin=monobook&action=edit
Delete: ?action=delete
Project Pages
Click to show
Userboxes

Fix userboxes to use a standard lpadding of 5px 0px 5px 0px, image at x45px, and cellspacing at 2 so they don't mess up userpage layouts. DONE!

Licenses
Updates needed help pages
The Rest, Beds, Sleeping dilemma

Decide on which to use; Rest, Beds, or Sleeping.
Option 1: Rest (Skyrim) to include info/images on beds (bedroll, haypile), no Beds (Skyrim)
Option 2: Create Beds (Skyrim). Separate the action from the object.

My indexes
My Sandboxes
Other Sandboxes
Testing Templates
Chat
Other
January 25, 2012 - Joined The Elder Scrolls Wiki.
January 30, 2012 - Five days later, promoted to

patroller

.
March 10, 2012 - Two months later, promoted to

administrator

.
January 23, 2013 - Gained access to DwemerBot to perform AWB tasks.
January 25, 2013 - One year on The Elder Scrolls Wiki!
October 21, 2013 - Invited to visit Wikia HQ in San Francisco.
November 14, 2013 - Almost two-years later, promoted to

bureaucrat

.
December 11, 2013 - Became a Wikia Star.
January 15, 2014 - Made my 30,000th edit.
January 25, 2014 - Two years on The Elder Scrolls Wiki!
| | |
| --- | --- |
| | This user has earned the Akatosh badge. |
Online characters
Online


Aldmeri Dominion

Daggerfall Covenant

Ebonheart Pact
Guild: Elder Scribes (NA)

Guild: Elder Scribes, Knights of Cyrodiil (NA)


Taibreah: Breton Templar
No-More-Tears: Argonian Nightblade

Guild: Elder Scribes (NA)


Crilgarin: Altmer Templar

Ursula Stormstriker: Nord Dragonknight
Skyrim characters
Skyrim

Victoria, Imperial,
Level 23
Zenna, High Elf,
Level 43
Traisa, Wood Elf,
Level 49
Rita, High Elf,
Level 83
Ursula Stormstriker, Nord,
Level 70
Shadow, Wold Elf,
Level 81
Victoria's Image


Class: Rogue
Standing Stone: The Lady
Primary Skills: Light Armor, One-Handed, Archery

Zenna's Image


Class: Archer
Standing Stone: The Lover
Primary Skills: Archery, Conjuration, Alteration

Traisa's Image


Class: Hunter/Thief
Standing Stone: Thief
Primary Skills: Archery, Sneak, Lockpicking

Rita's Image


Class: Necromancer
Standing Stone: Ritual
Primary Skills: Conjuration, Destruction, Alteration

Ursula's Image


Class: Warrior
Standing Stone: Warrior
Primary Skills: Heavy Armor, One-Handed, Block

Shadow's Image


Class: Scout
Standing Stone: Steed
Primary Skills: Light Armor, One-Handed, Block
Oblivion characters
Oblivion

Anna Knight, Imperial,
Level 24
Rita Camoran, High Elf,
Level 40
Anna's Image


Class: Acrobat
Birthsign: The Lady
Primary Skills: Acrobatics, Marksman, Sneak

Rita's Image


Class: Mage
Birthsign: The Mage
Primary Skills: Destruction, Alteration, Restoration
Morrowind characters
Morrowind
Samara, Dunmer,
Level 56
Samara's Image

Class: Spellsword
Birthsign: The Lady
Primary Skills: Long Blade, Block, Destruction