Hey Hey People of the wiki. The Skyrim Patch is out! Heres the information taken from the Bethesda Blog!
Note: The 1.2 Patch doesn't fix ALL glitches. Only the one listed here..
Patch info
Improved occasional performance issues resulting from long term play (PlayStation 3)
Fixed issue where textures would not properly upgrade when installed to drive (Xbox 360)
Fixed crash on startup when audio is set to sample rate other than 44100Hz (PC)
Fixed issue where projectiles did not properly fade away
Fixed occasional issue where a guest would arrive to the player?s wedding dead
Dragon corpses now clean up properly
Fixed rare issue where dragons would not attack
Fixed rare NPC sleeping animation bug
Fixed rare issue with dead corpses being cleared up prematurely
Skeleton Key will now work properly if player has no lockpicks in their inventory
Fixed rare issue with renaming enchanted weapons and armor
Fixed rare issue with dragons not properly giving souls after death
ESC button can now be used to exit menus (PC)
Fixed occasional mouse sensitivity issues (PC)
General functionality fixes related to remapping buttons and controls (PC)
The Patch is now out For Xbox, Ps3 and Soon to the PC! Now did they fix the annoying glitch where you can't even get the windhelm home? I hope so because I've been waiting patiently to finally buy that frikin thing for a while now. The only way to know is to play Skyrim! Off I go!!!!
Skyrim App- DRAGON SHOUTS!
TAKEN FROM THIS ARTICLE
Set to hit Apple's App Store sometime in the next two weeks is a new and ever-so-useful Skyrim companion called Dragon Shout. The app, available for both iPhone and iPad, features a dynamic, hand-drawn map that lets you drop markers and create journal entries for your battles, quests, items, and in the not-so-distant future, social networking purposes.
According to the Dragon Shout website, the app is not affiliated with or endorsed by the developers of Skyrim or Bethesda Game Studios, which is likely why the clever tool is completely free. What's more, future updates will allow for Dragon Shout members to share map markers and journal entries, and is set to expand to the Android market to boot.
Touch Arcade got the double scoop details directly from the source, and here's what is set to be included in the app's first release, which has just been submitted to Apple:
"The first version of the app contains an interactive map where you can drop annotated markers / journal entries down," the developer told us. "For example, yesterday I played Skyrim and left a bunch of dragon scales and bones on the side of a mountain because they were too heavy. I will come back and get them some other time so I marked it on the map so I know where it's at in the future. Another example is I'm always looking for the right ingredients for potions, so when I come across an important ingredient, I mark it on the map so I know where to get it next time."
An exact release date has yet to be set, but according to the Touch Arcade forums, Dragon Shout will be out 2-3 weeks from November 23.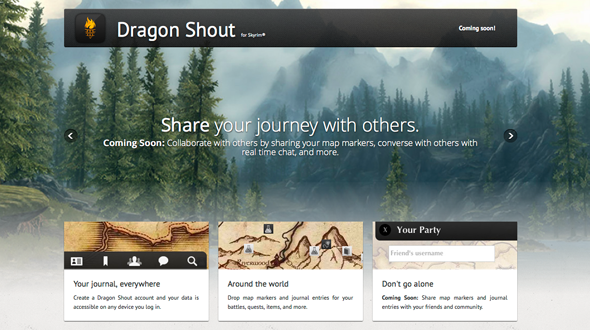 _____________________________________________________________________________________________
Pretty cool right? You can now track on what you do in Skyrim in your hands! Now I can track down where I can get all the Dragon Shouts....
Skyrim Books On Kindle
Do you guys like Reading? You know I certainly Dont! But if you DO like reading and like to read about Skyrim Lore and have a Kindle you can now read it! How you say? Well this will explain everything
Taken from this Article
Ever since Bethesda Softworks released Skyrim on November 11, the folks over at Capane have been collecting the in-game books that are available to read within Skyrim and converting them into formats that can be downloaded onto e-readers and tablets. Within the files for the game, the books are all in plain text rather than encoded files. The people at Capane saved each book into a separate document, added headings as well as a table of contents. These files were saved in both .epub and MOBI formats. The .epub files are used within the Nook as well as the iPad and the MOBI format is used within the Amazon Kindle. Capane has made these files available to download for anyone that's legally purchased a copy of the game.
In order to supplement the game, Skyrim fans over at GameBanshee have released a complete, annotated map of Skyrim available to download for free. Anyone seeking help finding a location in Skyrim can reference the high-resolution PNG version of the map or download the 9-page PDF version of the map to print out a poster-sized version of the map for printing. The map is broken into 96 grid squares which can be combined with the key on the Web version to quickly find a specific location via the alphebetical listings of the various landmarks, shipwrecks, villages, ruins, caves, farms, stables, statues and major cities around Skyrim.
YouTube users have been flooding the social video site with tons of Skyrim videos from methods to exploit shop owners through theft by slipping a bucket over the head of the NPC to videos about the various ways to die within Skyrim. A popular video posted by YouTube user HunterNormandy details 100 ways to die within the Skyrim universe and has racked up over 250,000 views in the past ten days.
_____________________________________________________________________________________________
Theres ya daily threefer this week! Blood Reaper must now go back to yelling at Lydia......