UPDATE The 1.3 Update is now out for ALL platforms. Heres the info taken from the bethblog .
1.3 Update
General stability improvements
Optimize performance for Core 2 Duo CPUs (PC)
Fixed Radiant Story incorrectly filling certain roles
Fixed magic resistances not calculating properly
Fixed issue with placing books on bookshelves inside player purchased homes
Fixed dragon animation issues with saving and loading
Fixed Y-look input to scale correctly with framerate
We're also planning on rolling out support for 4-Gigabyte Tuning (Large Address Aware) next week for our PC users. Stay tuned!
_____________________________________________________________________________________________
And heres a little bonus comic I wanted to add XD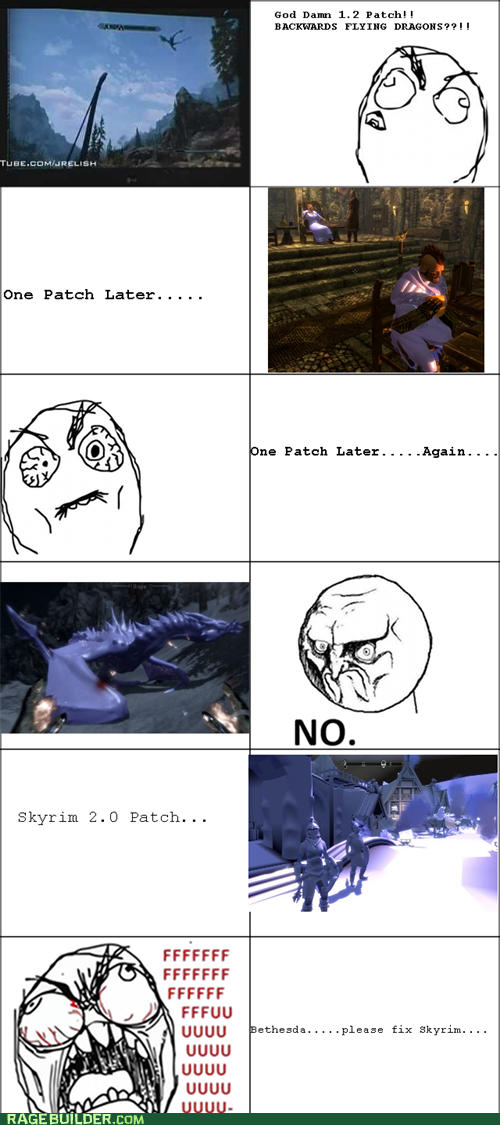 Ad blocker interference detected!
Wikia is a free-to-use site that makes money from advertising. We have a modified experience for viewers using ad blockers

Wikia is not accessible if you've made further modifications. Remove the custom ad blocker rule(s) and the page will load as expected.