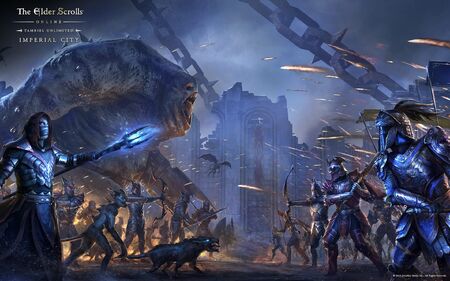 Well, if you have not noticed yet, the first of this month brought us the long awaited expansion for The Elder Scrolls Online. This is the first DLC for this game, and it returns us to the capital of the empire. As of now, it is only on PC and Mac, but will arrive to Xbox One and Play station four on 9/15 and 9/16.

"The Imperial City is special. Not only because it's our first DLC, but because it's a huge milestone for us as a studio. We are now able to shift our focus from business model changes and console launch to creating new, meaningful content. It's the first of many new quarterly DLC game packs, and we couldn't be more thrilled."
―Creative Director Rich Lambert
You cannot accses the new content until you have bought the expansion—which costs 2500 Crowns

if you don't have an ESO Plus membership—and have reached level 10. With this new story, we can expect hours of expanded play time, new areas to fight along side friends or alone, and powerful new weapons and armor. With this new adventure, the game also has a patch that effects everybody, so with the DLC and the patch, the game now includes:
All new content, available to players that are level 10 or higher
A brand new PvP/PvE space that includes six Imperial City Districts
New story content, quests, and characters within the Imperial City
A new Imperial City PvP Public Dungeon: The Imperial Sewers
Two new PvE Imperial City group dungeons with Normal and Veteran versions: White-Gold Tower and Imperial City Prison
23 new item sets that scale up to Veteran Rank 16
New Imperial City collectibles, including pets, polymorphs, and a skin, earned by participating in Imperial City activities
The Xivkyn racial motif crafting style
The Tel Var stone system used for the purchase of Veteran gear
Trophy Vaults that contain new Veteran Rank 16 jewelry sets and a chance for Xivkyn racial motif pages.
Players who bought The Elder Scrolls Online: Tamriel Unlimited and has an active ESO Plus™ membership will automatically have access to the Imperial City DLC game pack. If your ESO Plus™ membership ends or lapses, you will no longer have access to the Imperial City DLC game pack content and areas, but you will still have any items you earned while you had access.
Once you have access, just go to Cyrodiil, enter the sewers and find your factions leader. Also speak to Drake of Blades and that is but the start of your adventure.
You can read more about this on the ESO blog, where all the information I have here is found. I wish you all good luck in your travels, and be sure to share what you find with the wiki!
External links