I know I am usually not the person who delivers this kind of news, but I felt that this is something that should be known
As we all know, Bethesda has had... difficulties on releasing the Skyrim DLC for PS3. We've gone through two DLC with no hope, and with the reveal of the Dragonborn DLC, I'm sure many Playstation fans (myself included) have had some serious doubts about said DLC being released on Plastation.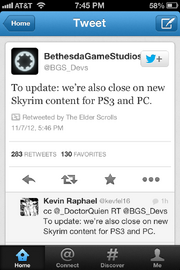 Recently Bethesda tweeted the they were "
Also close on new Skyrim content for PS3 and PC
". This could be the good news that we've been waiting for, but it's too early to be certain. The update is very vague and could range from actual DLC or a new patch. We'll just have to wait and see.
I hope, as many PS3 Skyrim fans do, that this could mean Dragonborn will see the light of day on the Playstation. While you wait, continue to play Skyrim, or (in my case) pop in one of your older TES games (hello Oblivion!) for a trip down memory lane.