Finally I did defeat him, I was lucky as I apparently had found a necklace somwhere (I have no idea where) but it was in my inventory suddenly. It had a 50% resistant to fire. So this time I also brought Dragonbane, the only weapon I tried that at least had an impact on him. Why didn't I bring it the first time, well I had a blackout!
The fight was pretty quick and he left... When I joined him in Sovngarde I used the same and of course he was not hard to kill there as we know. Looking around in the Main building I did see some that had a lovely time sining at least, despite the ordeal outside.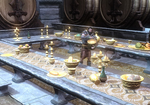 This time I killed Paarthurnax, I did fell a bit reluctant but maybe this is because I am a female and I don't really like to kill people/creatures my heroin has had contact with.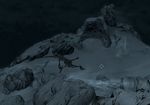 I have a soft touch most of the times.

On another note, once again I have trouble with this man Louis Letrush! After I had done the quest with him he once again appear outside Whiterun, half buried at the stables. Just like in my first game. Will he ever be fixed?