I'm not the one that usually create blogs. Besides the one for ESO a while ago, it's been some time since my last. But as our fellow Timeoin said to me here I need to do this as he did here. So here goes:
Some days ago I hit the 40.000 k mark, this you can say is a milestone, although I don't keep track of those on my profile. It's hard to believe I have done so much on this wiki since I joined in the last day of January 2012. It was a slow start as I had just discovered the Elder Scrolls series with Skyrim when it was released at the end of 2011. I came to this wiki to get help as I was not used to this type of gameplay, and haven't left since.
I started with adding images as some may know, but then with a tremble in my hands tried to edit articles as well, and the first to actually contact me was the above mentioned Tim (cats), then Jimeee (articles) and TombRaiser (images) who were a great help in the beginning. Then everything happened pretty fast (for me anyway), MOTM - nov 2012, patroller -jan 2013 and finally reaching admin - sept 2013. Crat coming this year in aug.
With my trembled hands I continued to edit more and more and on October the 2nd, 2013 I reached the 20.000 k mark. I have always enjoyed being here and now with the new start, hope to stay a long time into the future. I have met a lot of different people here from all over the world, myself coming from a country many people mix with Switzerland! In the cold northern part of Europe, where Icebears are said to walk the streets, although I can say I've never seen one yet.
I don't have an image of the 40.000 k mark but I have one of the 20.000 k. Here it is: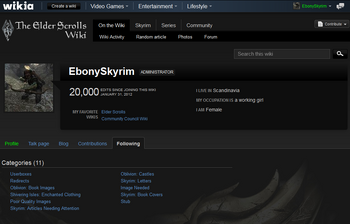 Good luck to all and happy editing.