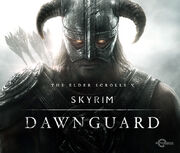 The Elder Scrolls V: Dawnguard
is almost here so I have decided to take this opportunity to go over some of the ground rules we have in place to ensure all our new articles are as professional as possible.
Style
Firstly, if you wish to contribute but have not read over our Policies and guidelines or our Style and formatting guide then I strongly suggest you do.
I know most of you won't, so I'll outline a few of the most important points:
Never write in a first-person or second-person point of view.

All pages must be written in a third-person view. For example:

"I found the item in a dungeon on the floor, but I think it can be found elsewhere."
"You can find the item in a dungeon on the floor."
Both of these examples are never to be used, rather something like "The item can be found on the floor of the dungeon" is preferred.
Always write in a neutral point of view. Don't use your own or anyone else's personal opinion.

Information such as "This sword is really good" is completely pointless and will be deleted.

Never user the phrase "the player".

If a sentence cannot be constructed without somehow referring to the player character, then the preferred alternative is "The Dragonborn". For example:

"The Dragonborn is later asked to defeat the necromancer, who can be found in..."

Follow the set structure of a page.

We never use "Description" or "Notes" as a header.
Only capitalize the first word in a header i.e. "Notable items".
Always add an "Appearances" header.
Walkthroughs
To keep our quest pages from spiraling out of control, please try to stick to the standards in the style guide. Again be extremely mindful not to use "you" or "I" when writing walkthroughs. Our quest pages for Skyrim suffer greatly from this problem and we don't want the same for Dawnguard.
Adding data
When you find a new weapon or armor piece and wish to update a page, don't add damage/armor and gold values to the article unless you are absolutely certain they are base values. Base damage/armor values means what the value is when not influenced by your skills or perks. These figures will be different from person to person, so we will only accept the base figure of items. We had a huge issue with this when Skyrim came out and we don't want to repeat it.
Templates
Almost all pages will need a template. We have set up several templates like we have for Skyrim. Please choose the correct template when adding a new page. If you don't know how to add a template then read "How to add templates".
The Dawnguard templates are:
Categories
At this point you should only add categories that already exist. Most categories are built into the templates so you do not need to add them. For example, the Dawnguard Weapons template already includes "Dawnguard: Weapons" - so there is no need to add it.
No nonsense
We ask editors to be vigilant when browsing pages. If you see something that is of no use to the article or is badly written then don't be afraid to do something about it. It is the only way the standard of our pages will improve. If you are unsure about something on a page then post a message on its talk page.
Don't copy other wikis
I shouldn't need to say this, but it still happens on this wiki to this day. Never copy and paste information from other Elder Scrolls wikis. Its completely unprofessional and makes the entire site look bad. The chances are it will be noticed sooner or later and deleted.
In closing
If anyone has any question, then don't hesitate to ask. For the first week of Dawnguard the following admins are very likely to be available to answer any questions: