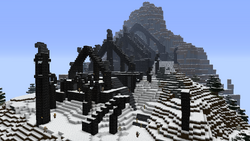 4J Studios
, the developers of Minecraft: Xbox 360 edition, have announced a
Skyrim
themed mash-up pack due for release in the near future.
Priced at $3.99/£2.69/€3.79, the mash-up features an exclusive Skyrim-centic texture set, 40 character skins, themed menus and user interface, craftable items, and more than 20 iconic selections from the original Skyrim soundtrack.
In addition, the pre-set world recreates memorable areas including Whiterun, Riverwood, and Bleak Falls Barrow, but on a smaller scale in order to fit with technical constraints of the games map size limits.
For a full list of details, see the BethBlog.com
Gallery