I have explored the vast land of Skyrim extensively, and I have come to ascertain a few things about this wild and wondrous wintry world.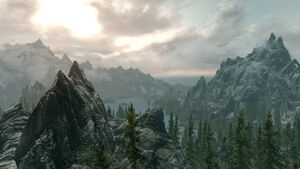 Life Lessons
One does not simply walk into Skyrim.
The Nords at some point thought it was a good idea to bury their dead with weapons and armour. Thanks for that.
Dead people always come back to life when someone comes to mourn them.
Dungeon builders built complicated puzzles, then decided to put the answer on the wall above it.
Every shopkeeper in the world, regardless of what they actually sell, refer to their goods as tresures.
Coins don't have mass.
Every inn in Skyrim was made by the same architect.
Only a renowned hero can purchase real estate.
Being a Thane is a just a fancy get out of jail free card.
Nobody ever bothers to move a Dragon carcass; it looks nice sitting in the middle of town.
The end of the world and a civil war will wait for you. Take your time.
Followers are so good at lockpicking, they don't need a key.
Followers have a sixth sense for when enemies are nearby.
No matter what you do or wear, everyone assumes that you are a wanderer or an adventurer.
Shopkeepers don't bother asking what happened to that expensive item you picked up and moved into the other room.
The Bard's College only teaches 3-4 songs.
Despite having 10 fingers, you can only wear one ring at a time.
The Dragonborn is the only person in the world who can solve everyone's mundane problems.
Everyone is either too weak, lazy, or stupid to solve their own damn problems.
Married couples never have sex.
If you marry someone, they will force you to pay for the random items in her shop like anyone else. Said shop always make 200 coins every day.
There are no spontaneous bar brawls, only arranged fist fights with a 100 gold bet.
Imperials are faithless.
Guards can tell what what you are skilled at just by looking at you.
Guards will applaud you for using one-handed weapons, then complain about two-handed weapons...all while wielding a two-handed weapon. (Special thanks to First Tiger Hobbes)
You can block with a two-handed weapon, but can't block whilst wielding two weapons.
Giants enchant their weapons with levitation powers.
Giants are more powerful than dragons--If some god-like giant decided to ressurect a bunch of dead giants, Skyrim would be completely fucked.
People often tell their whole life story to random strangers upon meeting them.
Saving the whole world from an apocolyptic dragon attack gets you no reward save for an inspiring speech from a monk with a beard.
The Blades are dicks.
Guards have short term memory loss.
People still die from diseases despite the fact that every disease known to men and mer can be cured simply by touching an Altar of Talos.
Praying actually works, despite the fact that you aren't even fighting for the Stormcloaks.
Nothing you ever do will ever overshadow the fact that you are a new member of the companions, and that you probably just fetch the mead.
Drinking beer gives you more energy.
Eating a root can make you invisible.
All prisons are poorly constructed.
You should always execute your most dangerous prisoner last, just in case a dragon attacks.
There are no pants in Skyrim.
Following simple logic, the expansion pack for Skyrim should have a shop named "The Missing Greaves".
If you buy enough items from stores, you will eventually become notorious amongst city guards for having "honeyed words".
Guards in small towns don't live anywhere, nor do they ever sleep or do anything except actually guard things.
The world's economy improves instantly when you become a master trader.
If you make enough potions, you can learn more about using axes.
Stargazing can teach you how to be a better blacksmith.
People murder<Chicken murder
Wheat heals wounds.
Being someone's friend means something.
Being an illegal immigrant is a capital offense. So is opening a gate, stealing a horse and killing a chicken. Mass murder is not.
Getting an arrow to the knee is a job requirement for being a guard.