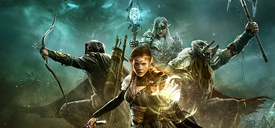 Following the release of the game's sixth update just a few days ago, The Elder Scrolls Online: Tamriel Unlimited has now been released. Keep in mind that this is not a new standalone game or DLC, it is just a re-branded version of The Elder Scrolls Online in celebration of the game's removal of the mandatory subscription model.
Speaking of the subscription model, as opposed to in the last 11 months for the game's release where you've had to pay $15 a month to play, today marks the first day in which this is no longer required. Of course, you'll still have to pay the regular $60 fee (or occasionally $20 during a sale) to get the game. If you currently have the game, you can log in right now without a subscription and play as long as you want. If there is some error, it is suggested you re-install the game. The subscription is still optional and is now known as ESO Plus™. It gives a numerous amount of bonuses and access to all DLCs which can be read about in this blog. The free 30 days code will also still be continued, and the free 30 days code will give 30 days of ESO Plus subscription time. All remaining subscription time you may have has been coverted to ESO Plus membership time, and if your subscription has trailed on you may notice you have around 2,200 Crowns.
Moving onto the next topic, Crowns. Crowns are a new currency in The Elder Scrolls Online which can be used in the Crown Store to purchase bundles, DLCs, pets, mounts and a few other extras. All players who own the game start off with 500

and all players who have a subscription gain 1,500

. If you have a recurring subscription, you will continuously get 1,500

for every 30 days that your subscription is active for. You will also receive 100

for every month you had previously been subscribed for. For most returning players, you will find that you have at least 2,100

which can be used to buy at least one of almost anything as the most expensive item is the Nightmare Courser at 2,500

. Crowns can also be purchased in different amounts individually varying by price. How many Crowns or amount of ESO Plus time you have can be found on your ESO account page.
If you've logged into your account, you may notice that the ZeniMax Terms of Service have been updated. Of course, with a re-branding of an MMO this is to be expected. You are required to accept these in order to play the game, but don't worry, there's not many large changes to the agreement. And that's all there is to it, enjoy exploring Tamriel unlimited! (Zenimax Announcement Link)