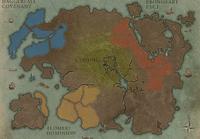 Zenimax Online Studios recently released an interactive map of Tamriel.
Discover more about the world of The Elder Scrolls Online and see new screenshots from each region. It also contains some snippets of in-game books and conversations relating to that particular region.
Many of the regions listed are already confirmed locations at launch. Locations such as Hegathe and Vvardenfell will appear after-launch.