I
got tired of seeing all the unrelated post about this in the
Skyrim 1.8 Beta
news post, thus i'm giving this it's own place to be rambled and ranted about.
Recently a Bethesda forum user by the name of Mardoxx found certain files imbedded in the Skyrim 1.8 beta for steam, that hinted at new possible DLC for Skyrim. The add-on would be entitled Dragonborn (Which if you remember was trademarked by Bethesda in September of this year along with Hearthfire and Fus Ro Dah). It would take place on the isle of Solstheim, which was featured in The Elder Scrolls III: Bloodmoon. The island lies northwest of Vvardenfell and has a climate and geography nearly identical to Skyrim. After the eruption of Red Mountain and the Invasion of Morrowind by the An-Xileel, Solstheim has become the new homeland of the Dunmer. It is likely that the choice of setting is an attempt to recapture the allure of exploration in a new expansive environment that Bethesda's previous expansion The Elder Scrolls IV: Shivering Isles was praised for. However, with the island being so closely similar to Skyrim already, it may lose some of the majesty.
The locations on the island are to include
Raven Rock
, Miraak Temple, Castle Karstaag and
Telvanni Tower
. One of the files discovered may even be a new set of compass markers for these respective locations.
Along with the setting and name were other references to possible features. One most prominently being the ability to ride dragons. This may possibly be the method of which we will actually reach the island, or possibly a sort of carriage system to travel within the island itself. Free rein over dragons as our personal air horse seems unlikely, for the same reason flight has been removed after The Elder Scrolls III: Morrowind. However the prospect is still intriguing. One has to wonder how the main story fits into this, as our progress through it will impact our relationship with dragons.
New armors for the expansion would include Bomemold, Chitin, Nordic and Stalhrim. You may remember Stalhrim as a mineral found exclusively on Solstheim, in Bloodmoon. It was a bluish glass type material (Similar to the blade of Chillrend) that was used by Ancient Nords when they buried their dead. There is evidence that all these armors will be craftable at a forge, likely provided you can find the materials to make them from around the island. There also seems to be the small possibility of horse armor as well (Oh god no!).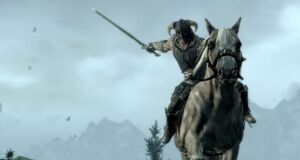 On the mention of horses, mounted combat is being much improved. With the addition of the ability to cast
magic
and use
staves
,
shields
and
torches
. Even including the ability to duel-wield both magic and Staves (auto-pilot?). All of which was noticeably absent with the original inclusion of mounted combat in Skyrim 1.7.
Mardoxx makes mention of new possible creatures and Dwemer objects, such as the Riekling, Scrib, and Netch. He however does not elaborate on them, simply saying that, "they're not that interesting".
Lastly, in the files is a reference to a new kill cam called "Rip Heart Out" (Gruesome). Since it is doubtful that this will be a new unarmed finisher (Kalima, Kalima!), this implies one of two things. A possible new transformation ability that we use the kill cam when we play as. Being Hircine's strong influence over the island, this may be the inclusion of the long awaited werebear. Or simply a new kill cam against a specific new enemy. Possibly some sort of dwemer construct that we kill by taking its "heart" battery from it?