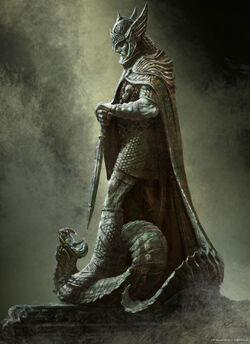 If you never ask, you will never learn.
I noticed a user called User:Oblivionluver has been vandalizing images in a couple articles. I remember they made some sort of revision a couple days ago the the Follower (Skyrim) article, but did not notice what they did to an image until today after i noticed what they did to another image in the beastfolk article. I almost didn't notice that either. Lets just say the alterations they made to the images would have been rather inappropriate for younger viewers. Ser Pouce-a-lot (talk) 03:07, July 12, 2015 (UTC)
I do have friends on larger wikias but, it's lik, Animes wikia, is it still fine ? Emperor Jarjarkine

The Ragged Flagon - Cistern
16:55, July 12, 2015 (UTC)
A question about helping another wiki
Edit
Hello! I'd like to ask you and all the other admins about something. This wiki has a great amount of articles (and they're of great quality, too!) but... the Polish version of the TES wiki has much less articles: just 6,769 at the moment. This is mostly due to a MUCH smaller polish-language gaming community and even smaller community of contributors. As an admin, I'd want to ask you if I could sometimes use articles from this wiki as help in filling in the vast gaps in the information on our wiki -I would sometimes translate a few paragraphs, a short article, check if I mentioned everything, etc. It would never be a copy-paste job. First of all, if I wanted to copy-paste, I'd have to translate stuff anyway (I can, though, I'm fluent in English). And I'd mostly check if I'd written everything correctly and lore-wisely. Everyone makes mistakes. After all, both wikis cover identical topics, just in different languages. We're a long way behind you and I'd want to speed up with adding pages and other content there. I play in English but I want to help those that don't know foreign languages as well as I do. I'd mention this at the Moot, but it's at 3 am my time. I hope you'll discuss this soon :D The Lusty Dovahkiin (talk) 22:14, July 12, 2015 (UTC)
RE:RE:A question about helping another wiki
Edit
Thanks! It will help us a lot, really a lot. By the way, it's useful for you too, when I was reading some of your articles to recall some lore, I found typos and missing links. So it's a lil bit help for you, in return. Thanks, really.The Lusty Dovahkiin (talk) 22:51, July 12, 2015 (UTC)
Yeah i am
Edit
I am okay but, I'm solving few things in my IRL life and, problems on wikia, related to fr things. Should be solved soon but, is it okay if i'm away for 1-2 weeks ? Emperor Jarjarkine

The Ragged Flagon - Cistern
23:37, July 16, 2015 (UTC)
Edit and templates
Edit
Hello :)
Tanks for editing my new article. I have a question about what you did. I don't know how to make the Character template have the chart with information. There's a person who always do that in my articles and he said I had to cut and paste one he had done already but that doesn't work because there's no "cut" option, and if I copy instead of cutting, it won't let me paste. ): Do you know what could I do?
By the way, whtat do you think about the article? I would appreciate any feedback you could give me, getting started is tough but I'm enjoying it very much.
Thank you :)
Sweetroll Scrolls (talk) 00:46, July 17, 2015 (UTC)
Spammer Report
Edit
If I didn't know any better, I would say User:Azenganze is almost certainly a spam bot of some nature, just going off of the edit feed. Zeta1127 of the 89th Legion (talk) 06:16, July 18, 2015 (UTC)
Hey, i'll look at this tomorrow because, i'm about to go sleeping (3h  in the morning) but, what link is it and what exacly is the problem ? I'm not sure to understand. Emperor Jarjarkine

The Ragged Flagon - Cistern
07:13, July 18, 2015 (UTC)
Food Truck
Edit
Sure, I will bring it up with the other members and we will vote for the Sweetroll. Talos guide you Kinsmen Speak Citizen! 07:29, July 18, 2015 (UTC)
Of course. Talos guide you Kinsmen Speak Citizen! 07:35, July 18, 2015 (UTC)
Projects
Edit
Champ,
I would like to know if there is any way to make projects here? Because I would like to help with few particular faction pages from Daggerfall.
Lincoln Speak! 00:48, July 21, 2015 (UTC)
Oblivion Guild
Edit
Hey, I'm honestly sorry that I havent been too active with the Oblivion Guild. I cant find any project for us to do, which is a problem. Could you help find one for us?
Tehpwner7067 (talk) 21:47, July 24, 2015 (UTC)
I'd like a smaller scope of a mission, preferably one that could be done by a small team. Tehpwner7067 (talk) 23:02, July 24, 2015 (UTC)
We can do the articles needing attention, and then the stubs, but first I think we should round up those who are active and willing to help in the guild. Tehpwner7067 (talk) 23:20, July 24, 2015 (UTC)
"Citation needed" template
Edit
Regarding the aforementioned template, I think we should institute a policy where if you add said template to an article, you need to go on the Talk Page and list what needs to be cited, particularly on long articles. DRAEVAN13
15:19, July 30, 2015 (UTC)
Gallus's Journal
Edit
Hey CCC, I've been doing some work related to Skyrim Falmer language items. I'm not sure if this is something others have noticed and the article has been done this way on purpose, or if it's something people haven't noticed, but there are 2 separate journals for the item Gallus's Encoded Journal. The actual Encoded Journal is the one written in Falmer with the ID 000CEDA6 and the translated version is called "Gallus's Journal" with the item ID 0001BB6D. How do we proceed with this? Bluesonic1 (talk) 08:49, August 1, 2015 (UTC) (p.s. I'm in the process of compiling screenshots of the untranslated journal so that they can be shown on the wiki much like Unknown Book, Vol. I, II, III and IV.)
Reminder
Edit
Please keep in mind what i said about a new forum section for Skyrim when you asked if there was anything you could do for the moderators back in may. AzuraKnight (talk) 10:51, August 1, 2015 (UTC)
Would You Kindly ?
Edit
http://elderscrolls.wikia.com/wiki/Special:Contributions/75.97.106.128
For spam and insulting/ordurial activity on User:Enda Kenny's talk page.
\m/¢yn!k4l\m/£@r7h\m/ ( Mortis non discernit. )
I removed the message for now snow. If they do it again, I'll keep removing them until CCC or another admin can do something about it. Starkiller131 (talk) 14:36, August 1, 2015 (UTC)