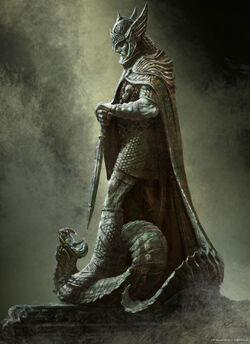 If you never ask, you will never learn.
Hey CCC, I am actually enjoying Oblivion more and more... :) I have been thinking a little but this week has been so hectic at work and I haven't spent so much time here as I did over the holidays, I wanted to observe the activities a little more before I make up my mind. Will get back to you soon about it.  EbonySkyrim (talk) 23:12, January 18, 2013 (UTC)
Re: Sandbox and templates
Edit
Hey CCC, to create your own sandbox you just need to create the page User:Cheatcodechamp/Sandbox. However, if you want to experiment with creating templates you will have to create a real template page on the Template: namespace. For example, creating the page Template:TestTemplate. This can be marked for deletion once you are done, or if you don't need it anymore. You can also do this on the Sparticus Wikia, because yes, the wikis on Wikia do follow the same wiki markup code.
Speaking of archiving, it's time for me to do mine too! Good luck with the Sparticus Wikia. —TombRaiser SPEAK! 20:38, January 20, 2013 (UTC)
Hey,
I saw your post on the forums about adding stubs which can make all of the games get mushed up together and become confusing. Maybe we should add an argument to the stub template (stuff after the barline) which specifies which game it is, if it's a location, etc.? That's kind of how it works already with Template:Attention, so what are your comments on adding that kind of functionality to Template:Stub? Also, should I ask Tomb, Flight, etc.? Kroq-gar78 (talk) 03:20, January 24, 2013 (UTC)
Re Patroller-congrats
Edit
Thanks CCC, I'll do my best... slap my fingers if not!EbonySkyrim (talk) 23:05, January 26, 2013 (UTC)
Removing bug fixes
Edit
If it provides a confirmed fix and is worded appropriately then yes the bug fix can stay on the page. Fixes to a bug should be short and to the point. If the fix would contain a lot of information, then it is better suited for the talk page, as pages with paragraphs of fixes will clutter the bugs section. Usually a PC console command will be noted as a fix if the bug is happening on the PC version, and that is fine. —TombRaiser SPEAK! 06:25, February 16, 2013 (UTC)
Image Martin Septim
Edit
Hey CCC, finally I have some new images of Martin. I have added one in the info box but I suspect he will have his royal clothes soon in the story. I've just completed the Great Gate quest. So when I have one of him in his royal clothing I'll add that one in the infobox and the other to the gallery. Have a look Martin Septim. EbonySkyrim (talk) 23:27, February 16, 2013 (UTC)
Re blogs and forums
Edit
Hey CCC, I'm not sure as I've never thought about it but in the forum you can remove messages. I saw that as I was about to delete the one above my reply yesetrday in the MOTM thread. But I decided to let it be. Check if you also can do that, it's under the more button. Haven't checked in blogs and I just did and I could not edit. :) EbonySkyrim (talk) 08:04, February 26, 2013 (UTC)
As per your request.
Edit
I am unsure if your request in the image request section was ever completed, so I decided to take the necessary screenshots while I was playing on my newest Oblivion character.
They haven't been altered in any way, and are still in their original .jpg format and original screen size, so they will likely require editing to some degree. I left the editing to you, as I was unsure what you had in mind. Some have alternates, in the case the first was unsatisfactory. If you require me to redo a screenshot, do not hesitate to ask.
I would imagine that whatever screenshots that are not utilized shall be deleted in the monthly clean up, so I would not think that you are required to delete any that are not used.
Without further ado:
I hope they are worth the ridiculous wait time you were put through. Tarkastio (talk) 05:01, March 5, 2013 (UTC)
Sorry CCC
Edit
I was going to do those images from the Drop Dead orders, I had not forgotten them, I was in fact close to doing them now but I was trying to update as many Oblivion and Shivering Isles articles on the way and it has taken some time. :)  EbonySkyrim (talk) 21:09, March 5, 2013 (UTC)
Something to do
Edit
There are no huge projects, but you could have a look at Pages Missing Data, and add in any missing information if you know it. —TombRaiser SPEAK! 16:04, March 16, 2013 (UTC)
Re Image request
Edit
Hi CCC, sure I'll do that :) EbonySkyrim (talk) 23:38, March 16, 2013 (UTC)
Re: Image bot
Edit
It was Elchzard who set up a bot that deletes images. You can try to get in contact with him about setting one up for your other wiki, or if you can't get in contact with him, then you could try asking over at Community Central. —TombRaiser SPEAK! 21:13, April 16, 2013 (UTC)
You wanted to talk? I'm on right now. Kroq-gar78 (talk) 23:49, April 22, 2013 (UTC)
Forum spam
Edit
Hi CCC, looks like the comment was already removed. Also, I'm not sure if this is the right place to report it or not, but I also posted it to the VSTF board, so I hope they'll take care of the other things that IP does. Anyway, thanks for telling me even though I was asleep ;) I saw it in the morning just now. Kroq-gar78 (talk) 17:44, May 11, 2013 (UTC)
Good Daedric Princes
Edit
The original Sheogorath, Jyggalag was evil but since they new Sheogorath is the Hero of Kvach he is now good and Azura, Meridia  and Nocturnal are good too. Tesshu (talk) 17:05, May 26, 2013 (UTC)
Re Inter wikia Favor
Edit
Hi CCC, sure I'll help if they need any... EbonySkyrim (talk) 11:52, May 30, 2013 (UTC)
Aldmeri Dominion
Edit
Hey, I was wondering, how do you feel about the first Aldmeri Dominion? Not the one in Skyrim, but the one in TESO.—This unsigned comment is by StormKhajiit (talk • contribs) . Please sign your posts with ~~~~!
Re: Revert
Edit
Hey, sre you talking about he infobox or the table of contents? Kroq-gar78 (talk) 17:09, July 4, 2013 (UTC)
Private Chat
Edit
Hey CCC, doing well? :)
I came here because I wanted to talk with you in private about a..."thing", it's not a BIG of a deal but I wanna know your honest opinion and I don't think it's appropriate to talk about it on a wikia forum. So I wondered if you have anything else except for Facebook so we could talk private? :) -- Aetherium (talk) 19:30, August 4, 2013 (UTC)
My frequent edits
Edit
Thanks for the feedback. One reason I do a lot of smaller edits is that the laptop on which I do my editing (in front of my PS3 setup) has a "back" key right above the cursor left key. If I hit that key by accident, it goes back to just viewing the page and I lose all the edits I have done. I've lost 30 minutes to an hour of work enough times that now I just try to save frequently.
I'm also doing this as I am going through these places for the first time, so I'm not sure what I will turn up next as unclear, etc., since I want to be as accurate as possible. Finally, I often get done with an edit, then read it again and realize one more change I want to make.
I will try to make sure I review everything before I save to cut down on the number. However, the issue of losing edits is a big deal for me, and the only way to avoid it would be to just copy the entire page source into a separate editor, edit it there, then paste it back in. If I am undertaking a large edit, I will try to do just that in the future. Sorry - I really wasn't trying to pad my edit numbers. :-) Cubears (talk) 07:32, August 10, 2013 (UTC)
Thoughts on second person
Edit
CCC, I decided to write up a piece on how to watch for and avoid using the second person. It's on my talk page underneath my bio (http://elderscrolls.wikia.com/wiki/User_talk:Cubears). It's probably too long right now, but I wanted to get some examples in and have the entire thing build. I'd appreciate it if you looked it over and let me know what you think. Cubears (talk) 05:38, August 13, 2013 (UTC)
Suggestion
Edit
Thanks for the suggestions. I had never paid attention to the profile or blog tabs before. I've moved them there now. Cubears (talk) 23:44, August 13, 2013 (UTC)
Journal Entries for Quest Articles
Edit
CCC, one of the things I've started adding in my quest article updates is journal entries. I saw them being added to other articles, and just thought I should add them as well to mine in order to finish up all necessary edits. For example, see what I did to The Silence Has Been Broken. However, they require a bit of work to create and make editing more time-consuming. So, before I keep doing this, I was wondering whether they really are wanted. What do you think? Is there a quest article template anywhere that shows what all the desired pieces are?
This is probably a topic more for a general forum discussion, but I'm not sure where to create one. Cubears (talk) 15:39, August 19, 2013 (UTC)
Re: Possible project and advice
Edit
We do already have the Voice Cast page that lists voice actors. There are currently 3 individual pages for the voice actors on the wiki, which covers a basic summary of their work. I think if we do make more individual pages for voice actors it should not become too large, as it's main focus should be a on their work in The Elder Scrolls games. If people seek more detailed information about the actor, then the voice actor's IMDB page can be linked on their wiki page. The only pages we have right now are; Max von Sydow, Lynda Carter, and Jeff Baker. —TombRaiser SPEAK! 17:56, October 7, 2013 (UTC)
Re: Tending the Flames
Edit
I don't know why we don't have the end results for the King Olaf's Verse. Probably because no one wanted to go through the quest that many times to get each ending? But, yeah, feel free to do that and get all seven endings. —TombRaiser SPEAK! 19:05, November 26, 2013 (UTC)
Re: Live Chat
Edit
Happy new year to you too! The type of bot you're talking about is something like what Elchazrd and Kashiro have set up in the IRC (ie: Akatosh). I have much going on right now and afraid I don't have the time to request a chatbot. If we did request a chatbot, it would have to go through Sactage, and his reposes are not always that quick.
I have faith in our current chat moderators that they will take their duties seriously and enforce the rules of the chat room. —TombRaiser SPEAK! 19:44, January 2, 2014 (UTC)
Asking to be nominated.
Edit
Hey Cheatcodechamp I was wandering if you could possibly nominate me as a patroller. AFK man 682 (talk) 16:17, February 27, 2014 (UTC)
Hi triple C, yeah it has been a while. I am ok considering what has happened in the last 5 months IRL. I am also currently very in to The Witcher as I got the first 2 games for almost free on Steam and I love it... so at the moment I just go into Morrowind and occasionally the other TES games to get some new images and add some to the articles. The chat hasn't been that interesting for me unfortunately, I haven't participated as much as I thought. But I was stunned to hear what was discussed there so I did leave a few comments at first. Tomb is the one that has been involved more so I have just read the thread now and then..
One reason why I don't go into chat so much is because I feel the conversations are not in my taste. I feel a bit too old too, to interact when it's not about the wiki or the games. The few times I have been there lately I noticed a lot of inmature behaviour and remarks.. the talk was about nothing really.. not interesting. I don't really know what to do more than what you say, more admins more often.. but it's hard to make people be mature, especially when you don't really know their age. When people ignore warnings and others just behave so you in the end have to block etc.. that wasn't the purpose of the chat anyway, it was to be helpful in a more easier way first and foremost, then of course one can interact in a more personal way but not to the extent it has become. In all the hundreds of hours I have played Morrowind to Skyrim, I have never come across any character using more mature things than weapons and the occational drugs like Skooma.. nothing sexual so why do they need to talk about this in the chat.. that is unbelievable. That is unfortunately what I can say at the moment. Are you on Steam btw? —EbonySkyrim Message! 23:33, March 11, 2014 (UTC)
Re:Re: Chat
Edit
Hey CCC,
I've been part of the ESO beta for quite a while now, so my enthusiasm isn't what it used to be, but I am still looking forward to being able to play it whenever I can, and not only on a 3-day-weekend basis.
About replacing profanities with emoticons in chat, that was actually something that Flightmare had mentioned a couple weeks ago. I'm not sure how effective doing that would be though. I mean for one, we would have to list a bunch of profanities on our Emoticon page where it is visible to everyone as a "usable" emoticon. Another concern is that it can invite the spamming of emoticons. I'm not often in chat, for various reasons, but now that we have KINMUNE (chat bot) keeping logs of the chat, it might deter people from disrupting and misbehaving in chat. —TombRaiser SPEAK! 00:58, March 13, 2014 (UTC)
New pages
Edit
Calling all patrollers to please remember to scout the Special:Newpages. Right now there are several hundred pages needing to be patrolled as many new pages are created these days. I have myself done a lot in the last couple of days but if you have the time, please help. Thanks... —EbonySkyrim Message! 13:30, March 13, 2014 (UTC)
Assistance
Edit
Hey CCC, I'm pretty good, I've been busy on another wiki too.
The problem is that you have <mainpage-leftcolumn-start/> twice, because it's in the template as well on the actual main page. You'll need to remove the <mainpage-leftcolumn-start/> from Template:MainPage and add the template back to the main page directly underneath <mainpage-leftcolumn-start/>. Let me know if you have any other problems with this. Balagog gro-Nolob (The Gourmet is listening) 07:07, March 18, 2014 (UTC)
Hey, we've RP'ed before. Haven't seen you in chat for a long time. (RPFan http://elderscrolls.wikia.com/wiki/User_talk:RPFan )
Job Request
Edit
Hey CCC, it's no problem I'm happy to help.
Template:Character will now only show the gallery if it is used. If you ever need to hide a section of an infobox, just copy the code and change Gallery to whatever you need.
The episode infobox just had a space under it, so I removed it and they are aligned properly now.
Balagog gro-Nolob (The Gourmet is listening) 03:56, May 7, 2014 (UTC)
Chat request
Edit
Hi Cheatcodechamp, is it possible you can come onto the chat for a bit? There's something I need to talk about in PM's, just PM me when you are available to do so. :) --SuperSajuuk Talk Page | Tabber Code | Channel 10:55, July 18, 2014 (UTC)
Sorry to miss your message earlier...
Edit
Hi CCC, sorry to miss your message earlier - I was asleep for a little bit. It looks like you might already have made the page you were talking about, and that's fine as long as the difference is clear (maybe you've already done this - I haven't checked). Thanks! Elchzard (talk) 00:49, July 25, 2014 (UTC)
Hi. Yes, there isn't anything to suggest he was Atmoran, so its best not to guess. He is Nord in the CK, so that's why its listed as such on his page. I've made the change. Also, don't warn users for making such changes - always assume good faith. The anon user was simply mistaken. Jimeee (talk) 10:08, August 4, 2014 (UTC)
Rune Stones/Oblivion
Edit
Hi triple C, saw your message on Tombs talkpage and as she has been away for some time due to a long summer holiday I'll help you instead. Yes, you can merge it with Rune Stones and they are called "Rune Stone" ingame. So a namechange should be done IMO. Don't forget to fix the links, there are only a few of them so I think that's better than making a redirect. —EbonySkyrim Message! 11:37, August 11, 2014 (UTC)
Re: Varondo
Edit
Hi again triple C, yes I'm having a nice holiday. On sunday morning my sister and nephew are going back to Paris, France. And I'm going back to work on monday, although I don't want to.. So, Varondo... I did go there today but having interior maps is too much work, I tried that before and it was hard to get. But I took some interior images and will upload them so you can choose what you think can be in the article. Either as a gallery or have them in each subsection. —EbonySkyrim Message! 19:17, August 13, 2014 (UTC)
Hadvar and Ralof
Edit
Hey there, i would like to tell you that only Hadvar or Ralof can survive Helgen not both of them. I choose to escape Helgen with Hadvar and joined the legion after, i did not saw Ralof in any place in Skyrim, i only saw Hadvar in Riverwood. Tesshu (talk) 23:16, August 16, 2014 (UTC)
Regarding Felen's Ebony Staff
Edit
Hello. First of all, you're welcome, I don't have sufficient knowledge on Morrowind or this sepcific quest, so I decided to mark it. Second of all, I tried to rename the mentioned page to Felen's Ebony Staff (Quest), however for some reason I screwed up (Felen's Ebony Staff). Can you help me fix it? Thanks in advance. Serve Akatosh or serve no one. (talk) 23:56, August 21, 2014 (UTC)
Maryon's Staff
Edit
Are they the same item? I have to be honest - I never got that far either.
I know that they have a separate ID, and a separate location - however, the stats (and enchantments) are identical. I honestly have no idea about it either. Timeoin•Say G'Day•View my work 12:23, August 22, 2014 (UTC)
Re: Unused Images
Edit
I'm kinda "in charge" of the images.. :) I deleted all unused images before ESO (where several thousands and took a few weeks) so we wouldn't get even more. I don't think you have to ask Diogo, I remember I said to him to please upload images in the standard size but he was unable and left them. So go ahead and create the articles. Oh, and come to me first if you want to ask unless it's something specific for him, as I'm usually here everyday. Tim has some trouble to deal with so he isn't online that often. —EbonySkyrim Message! 21:47, August 23, 2014 (UTC)
Hey CCC, can we chat when you have a little time over, there is something I would like your opinion on. —EbonySkyrim Message! 16:04, August 24, 2014 (UTC)
Online Images
Edit
With regards to what Ebony said - yeah, basically, a lot of them are uploaded by me. I know I don't really get a lot of time on here, so I try and get as much of one thing done as I can that time I'm online. I don't mind at all if others use those images for articles - they were uploaded pretty much for that reason. And heck - if there's a better quality version - by all means use it. The ones that I uploaded were basically done so there was something  there that could be used.) So, yeah - please feel free to use them. I know I wont get a chance to any time soon. Timeoin•Say G'Day•View my work 10:26, August 25, 2014 (UTC)