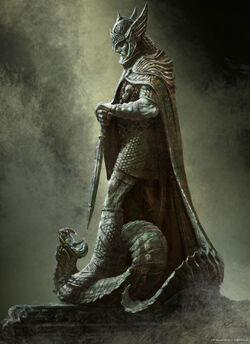 If you never ask, you will never learn.
Archives
Edit
Hey, I noticed you archive manually. I assume there's a reason, but I'm a little curious as to why you don't use the archivetool to do the archives quickly? --Sajuuk talk | contribs | Channel 20:06, April 20, 2015 (UTC)
Understandable, I guess.
Also, I think we should disband this idea of protecting archive pages with the protect tool, there is a userscript on the developer's wiki that does it without using the protect tool and is far more convenient (as well as allowing editors to update links without needing to ask sysops to do it).
Hop in chat if you can sir.Gaminomicon (talk) 23:09, April 20, 2015 (UTC) Right then. I'll catch you next time, perhaps later tonight. Cyas sir. :)Gaminomicon (talk) 23:29, April 20, 2015 (UTC)
RE: Adamantium Boots.png
Edit
Hiyas sir. Yesh kill that image for me. I named it without thinking about the other games that have adamantium in either vanilla or mods/addons. I also messed up the transparency on that image but the second image was fixed and named correctly so that one isn't needed now.Gaminomicon (talk) 05:10, April 25, 2015 (UTC)
Sandbox Template
Edit
So I thought of a quote that could be used for the template, one that is both Skyrim related and I think tasteful as well :) "What more could I ask of you? No, you're free to roam. I suspect the gods have needs for you elsewhere." - Ulfric Stormcloak (article link) Bluesonic1 (talk) 07:41, April 25, 2015 (UTC)
Hope it helps! I also finished the Aetherium Wars quest last week so I can't go back and go over it but some of the dialogue at the end with Katria includes some farewell material but I think it was bordering the line with sounding like the person has died kinda thing, but there's somewhere else you can look if you're stumped :P Bluesonic1 (talk) 07:51, April 25, 2015 (UTC)

Yeah I think that would be a great idea too, having honored editors as such. I think you mean avoid using morbid stuff? :P Haha I agree with that too, hence the disclaimer in the second message. Might pop in after dinner if you guys are still there! Bluesonic1 (talk) 08:26, April 25, 2015 (UTC)
Archwind Point
Edit
Greetings
I have been playing this game for some time and I STILL run into all manner of "glitches" "bugs" "quest issues" and this one in particular, regardless of which difficulty level I set the game to, NEVER resolves correctly: Arcwind Point's word wall as given by the Grey Beards. I have played countless characters, all manner of race, sex, you name it - it NEVER works right -- is there a known GOOD FIX for this problem?
TY in advance for your insights and time.
Rick Burch - hiflyer02@hotmail.com
Honored Staff template
Edit
In regards to your templates regarding honored users, I like the second one best. 
Madman97 (talk) 09:31, April 25, 2015 (UTC)
Come on IRC if you can of course ^^--Emperor Jarjarkine

The Ragged Flagon - Cistern 20:13, April 25, 2015 (UTC)