Vampiric Drain
Talk

7
19,055pages on
this wiki
Vampiric Drain is a Vampire Destruction spell in The Elder Scrolls V: Skyrim. This Novice-level Destruction spell may only be cast by the Dragonborn after becoming a Vampire. Enemy vampires cast this spell as well. The spell drains Health from an opponent and heals the caster with it. Targets of this spell can contract Sanguinare Vampiris, which leads to Vampirism unless cured within three days. The spell can be equipped to either the left or right hand and dual wielded, but the dual wielding perks will not affect the spell. However, Destruction mana perks will be active.
Usefulness
Edit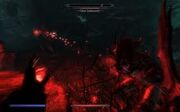 As a vampire, the Dragonborn has 4 stages of Vampiric Drain. The table below describes the stages:
| Stage | Damage | Cost | ID |
| --- | --- | --- | --- |
| 1 | Drains 2 health per second | 6 magicka per second | 0008D5BF |
| 2 | Drains 3 health per second | 10 magicka per second | 0008D5C0 |
| 3 | Drains 4 health per second | 13 magicka per second | 0008D5C1 |
| 4 | Drains 5 health per second | 17 magicka per second | 0008D5C2 |
Vampire Lord
Edit
When the player has the Vampire Lord power from The Elder Scrolls V: Dawnguard, the Vampiric Drain spell becomes a missile-like spell which is always equipped in the right hand, and killing living enemies with it increases the level to the next Vampire Lord Perk (except on dragons).
 360 

 The Elder Scrolls V: Dawnguard If Serana is the current follower, the Vampire Lord version of this spell is weakened to the point where its power is negligible. (This has since been patched)

 360 

 The Elder Scrolls V: Dawnguard As the player's stage of vampirism changes, this spell will disappear from the favorites list and need to be readded, even if progressing to a version of the spell that was favorited previously.

 360 

 The Elder Scrolls V: Dawnguard Using this spell to level up the Destruction skill will not work. This is possibly because it has a restore health side-effect. That may off balance the experience mechanism, or, more likely, it is considered the same as the Vampire Lord spell and thusly will only be coded for the purpose of gaining those Vampire Lord perks. However, this spell does not gain any perks for the Vampire Lord, rendering it a broken spell.
Appearances
Edit