Velehk Sain's Treasure
Talk

7
19,065pages on
this wiki
Walkthrough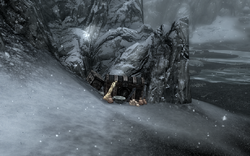 Velehk Sain is a daedra being you can find in The Midden in an unmarked quest.
If you do choose to release him, then he will give you a map to his treasure. (The treasure will not appear if you haven't met him or if you choose to slay him instead of freeing him).
If you kill Velehk and quickly loot his corpse before it disappears he gives two scimitars and vestments from Hammerfell.
Another method for obtaining the map and killing him is to release him, then cancel the conversation while he is still talking and quickly attack and kill him before he's finished speaking. A paralysis weapon works well to immobilize him. The map will have been transferred during the chat, and the body is still lootable. (this method does not always work however, as sometimes the treasure will not appear after you have the map if you kill him anyway)
It's not the most direct treasure map you have ever seen. In fact, the map is more than just upside-down and there is no note in it. Most will have trouble looking for it so here is the pinpoint on the world map.
Location of the Treasure: The map is very misleading, get down to the water level and head directly west from College of Winterhold until you come across a rather flat peninsula that appears to have a path going up it. Go off to either side all the way around the peninsula until you can see the large statue of Talos and below that on the ground should be the treasure. The peninsula is just south and a little west of Ysgramor's Tomb.
Another way to find the treasure is by standing by the beached rowboat at Pilgrim's Trench and looking south-east.
Behind the statue of Talos, on the ground by a lantern, is a skill book - The Importance of Where (One-handed).
Contents of the Treasure (Randomised)
Surrounding the Chest
Goblet x2
Dibella statue
Coin purse x 3
Bowl
Amulet of Talos
Flawless garnet
Emerald
Silver garnet ring
Amethyst
Gold emerald ring
Ruby
Gold ingot x6
Imperial sword of (Random Enchant)
In the chest
Gold
Copper and sapphire circlet
Velehk Sains's locker
Gold
Lockpicks
Jewelry
Gauntlets
A Dagger
Bugs
 PS3 

  A Snowy Sabre Cat might spawn nearby, run up and tackle all the booty, making all of it, except the chest, fall through the ground.

 360 

  Even though you freed Velehk Sain, and received the treasure map, the treasure may not appear if you wait too long to retrieve it.

 360 

  If you die after freeing Velehk Sain and before you retrieve the treasure the Misc. quest to get the treasure will leave.
Gallery