Vignar Gray-Mane
Talk

2
19,082pages on
this wiki

"When the Empire surrendered to the Aldmeri Dominion, they shamed us all!"
―Vignar Gray-Mane
Vignar Gray-Mane is a member of the Gray-Mane clan in Whiterun. He is a strong supporter of the Stormcloaks. He is known as "Vignar the Revered" to The Companions.
He seems to be the oldest member of The Companions, Kodlak suggested that he witnessed the rise and fall of about half a dozen Harbingers, and Vilkas saying that he "knows our history as well as Vignar, by now, except I can remember it."
Clan Battle-Born
Edit
Of all the Gray-Mane's, Vignar seems to be the one who is most opposed to the Battle-Borns, with both women in the family having lines about the two clan's feud's stupidity, and the other men not commenting.
Civil War Aftermath
Edit
Vignar Gray-Mane replaces Jarl Balgruuf the Greater as the Jarl of Whiterun, if the Dragonborn helps the Stormcloaks take over Whiterun in The Battle for Whiterun. He also mentions plans to build a Temple of Talos in Whiterun, and makes Heimskr the High Priest.
Even as the Jarl he may still attend to the player's wedding.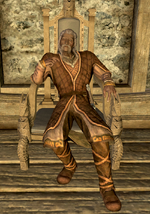 Occasionally, if a bugged Stormcloak Soldier spawns in Whiterun, and the guards of Whiterun attack him, Vignar may attack the guards.
 PC 

 360 

 PS3 

If he is nearby when a Whiterun Guard is attacked, he will draw a sword and fight alongside the attacker.

 360 

 

 PS3 

  He may attack the player for an unknown reason, it could be because of accidentally killing a companion follower.
When he is Jarl he will sometimes fail to give the option to become a Thane.
Appearances
Edit