Wall of Frost
Talk

0
19,069pages on
this wiki
Wall of Frost
School
Destruction
Skill Level
Expert (75)
Magicka Cost
137
Effect
Sprayed on the ground, it creates a wall of frost that does 50 points of frost damage per second.
Duration
1
Spell Tome
Purchase
Tome ID
000A270A
Spell ID
00035D80
Wall of Frost is a Destruction spell of Expert Level in The Elder Scrolls V: Skyrim. It costs 137 magicka per second of casting on the ground where the wall is desired.
Wall of Frost deals 50 damage of frost to any enemy who passes through it each second. This damage is not increased by the Augmented Frost skill Perk, and does not harm the Dragonborn or their companion.
Spell tome
Edit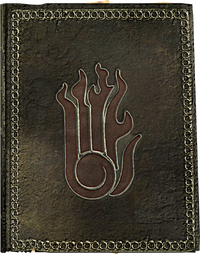 Attributes
Edit
Weight: 1
Value: 700
See Spell Tome for a complete table of spell tomes, their descriptions, and their values.
Acquisition
Edit