This article contains pre-release content.
Pre-release related content is unconfirmed and may be changed or removed before official release.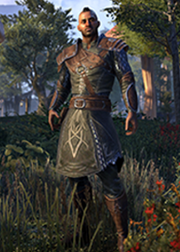 The Warden is one of several playable classes in The Elder Scrolls Online. It is an upcoming class, due to release on June 6, 2017, as part of The Elder Scrolls Online: Morrowind.[1] Only player that own the Morrowind addon are able to create a Warden.[2] With this class, the player will be able to summon combat pets, similar to the Sorcerer. In addition, it will also add ice abilities in a way similar to the Dragonknight's flame abilities.[3]
Skills Trees
Edit
Winter's Embrace
Edit
Green Balance
Edit
Animal Companion
Edit
This class was available during the alpha/beta version The Elder Scrolls Online, but was cut before the final release of the game.[5] Skills of the Warden class were later added to the files of the 2.6.0 Patch Notes on the Public Test Server, prior to official announcement.[6][7]
References
Ad blocker interference detected!
Wikia is a free-to-use site that makes money from advertising. We have a modified experience for viewers using ad blockers

Wikia is not accessible if you've made further modifications. Remove the custom ad blocker rule(s) and the page will load as expected.