Weapon Rack
Talk

4
19,048pages on
this wiki
Weapon Rack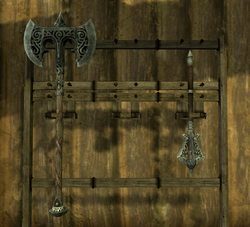 Purpose:
Weapon Storage and Display
Type:
Miscellaneous Item
FormID:
016BB289
Main article: Weapons
The Weapon Rack is a miscellaneous item found in The Elder Scrolls V: Skyrim, typically found in Houses.
Weapon Racks are interactable objects found in various locations throughout Skyrim.
Activating a Weapon Rack will store the currently equipped weapon in the rack, and it can be retrieved at any time. It is often possible to store Quest-related weapons that are not normally droppable (such as Delvin's Bow) in Weapon Racks.
Some times if you buy the house in Markarth, and upgrade it BEFORE entering it, it will fix the weapon rack not working glitch.
Sometimes the weapon rack will cease to function, and the option to place items on the rack will not appear when you look at it.

If the option to use the weapon rack won't appear, it's possible to fix it by punching it with fists. another way to fix this is to upgrade all of the possible things in your house before you go in.
Still the option may not appear, in which case there is no fix.If you have a weapon that is a quest item equipped it is possible to put it on the weapon rack.

Some weapons placed on a rack will fall off when you leave your home. This seems to happen most often to greatswords, such as a Dwarven Greatsword or Glass Greatsword, and the Ebony Blade.

Sometimes when you put weapons on the weapon rack they just float in mid-air not even attached to it.

Sometimes when you place a weapon on the rack it disappears and cannot be retrieved.

Sometimes the improvement on a weapon will disappear.

Skull of Corruption when place on the rack may become standing next to the rack after you re-enter the cell, you may still be able to add other weapons to the rack after that.

 360 

  The Elder Scrolls V: Hearthfire Found in Heljarchen Hall Cellar but not limited to. When placing objects upon the five long Weapon Rack you must always place your weapons from the inside out. If you place a weapon on the outside first, then the immediate space beside will not allow you to place anything. This is fixed by placing objects first in either the centre slot or the two inner spaces.

 360 

  Sometimes, when placing weapons on the racks, they will appear in the air next to the rack and then fall to the floor. It is possible to get the weapon on the racks if repeatedly attempted, but not guaranteed.