Ad blocker interference detected!
Wikia is a free-to-use site that makes money from advertising. We have a modified experience for viewers using ad blockers

Wikia is not accessible if you've made further modifications. Remove the custom ad blocker rule(s) and the page will load as expected.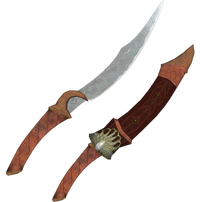 Witsplinter is a leveled Elven dagger used by Faustina Cartia. The Witsplinter is found on Faustina during the The Siren's Deception quest. The enchanted Witsplinter emits a red glow.
Weapon Level
Enchantments
Levels 1-4
744
3
6
Damage Magicka 10 pts on Strike
Damage Intelligence 10 pts for 20 secs on Strike
Levels 5-9
845
4
9
Damage Magicka 15 pts on Strike
Damage Intelligence 10 pts for 20 secs on Strike
Levels 10-14
1162
7
14
Damage Magicka 20 pts on Strike
Damage Intelligence 10 pts for 20 secs on Strike
Levels 15-19
1570
8
16
Damage Magicka 25 pts on Strike
Damage Intelligence 10 pts for 20 secs on Strike
Levels 20-24
2348
9
18
Damage Magicka 30 pts on Strike
Damage Intelligence 10 pts for 20 secs on Strike
Levels 25+
3895
10
20
Damage Magicka 35 pts on Strike
Damage Intelligence 10 pts for 20 secs on Strike
Appearances
Edit