Wooden Mask
Talk

15
19,048pages on
this wiki
Wooden Mask
Base Armor:
2
Weight
2
Base Value:
51
Additional Effects:


The wooden mask hums with an unfamiliar energy.

Class: Light Armor
Upgrade Material:

N/A

ID:

00061CCA
The Wooden Mask is a Dragon Priest Mask found in The Elder Scrolls V: Skyrim.
Location
This mask is located inside the central barrow, also known as Bromjunaar Sanctuary, to the East of the entrance of Labrynthian.
It can be accessed by simply entering the barrow and following the path around. The mask is near some skeletal remains and a mysterious note.
Characteristics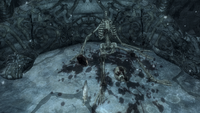 The Wooden Mask is unlike the other dragon priest masks. Its purpose is to gain access to the
Dragon Priest Shrine
.
Wearing the Wooden Mask within the barrow sends its wearer back to a time before the destruction of Bromjunaar Sanctuary. The central focus of the sanctuary is the restored Dragon Priest Shrine. It should be noted that the restored Dragon Priest Shrine is only accessible by wearing the Wooden Mask within the barrow.
The Dragon Priest Shrine contains the busts of eight Dragon Priest found in Skyrim. Any Dragon Priests who had been defeated will drop the mask that they wore. These masks can be displayed on its respective bust on the shrine.
A bust is available for the following masks:
Once the eight masks are placed in each respective bust on the shrine, the final mask Konahrik is revealed. The other masks may be taken from the shrine once Konahrik is obtained.
Enchantment
Despite the enchantment being described as "The wooden mask hums with an unfamiliar energy", this has no actual effect.
Bugs
See also
Appearances