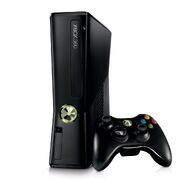 There are two Elder Scroll games that have been published to the Xbox 360 system. Content related to the Elder Scroll products on the system may be found in The Elder Scrolls V: Skyrim and The Elder Scrolls IV: Oblivion pages. 
On November 2014, Xbox 360 reached over 7,000 video games. The Xbox 360 system will be discontinued in late 2016. 
Links to Elder Scrolls products on the Xbox 360
Edit
Ad blocker interference detected!
Wikia is a free-to-use site that makes money from advertising. We have a modified experience for viewers using ad blockers

Wikia is not accessible if you've made further modifications. Remove the custom ad blocker rule(s) and the page will load as expected.