Xivilai
Talk

2
20,634pages on
this wiki
Xivilai
Basic Info
Level
20+
240+
160+
Stamina
300+
Spells/Abilities
Fireball
Summon Clannfear

Shock Damage

25+
Resistance
Resist Fire
Spell Absorption
Weakness to Shock
Soul Size
Grand (1600)
Base ID
00032655 (Unarmed)
0001E64D (Armed)
0018BA25 (Summoned)
Sound
The Xivilai are powerful Daedra who cast fireballs and summon Clannfear to their aid. It is best to dispose of a Xivilai before his Clannfear minion overwhelms you, using either marksman or melee, as Xivilai have a relatively strong spell absorption bonus. They usually carry a powerful axe or sword, ranging from Dwarven to Daedric, depending on your level.
They can sometimes be found in fellowships of two or three. For some reason if you manage to lure a Xivilai underwater, it will not swim, but instead walk on the ground underwater. The Xivilai are the strongest members of the Daedra, being able to wield two-handed weapons in one hand.
General stats
Edit
Strengths
Edit
Significant spell absorption
Weaknesses
Edit
Damage types
Edit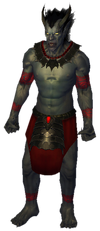 Named Xivilai
Edit
Xivilai have a certain chance of absorbing any spell cast at them.
Can be summoned as an ally/minion using the master-level Conjuration spell, Summon Xivilai.
If pushed down, when getting up they will make zombie noises such as moaning.
Appearances
Edit