The Zainab Camp is a location visited by the Nerevarine for the main quest in The Elder Scrolls III: Morrowind.
Descrition
Edit
The camp is one of the four Ashlander camps. It is located in the Grazelands region of Vvardenfell. Within the camp are three merchants, a skill trainer and a healer.
Characters
Edit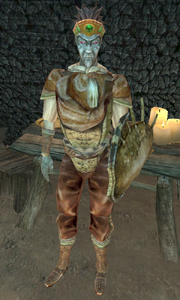 In order to complete the Fifth Trial of the Seven Visions the Nerevarine must be declared as such by the Four Ashlander Tribes.
Negotiate a deal to persuade the Zainab tribe to sell Ebony to the members of House Hlaalu.
Help Turedus Talanian learn what the Zainab tribe wants, in order to improve relations with them.

Appearances
Edit
Ad blocker interference detected!
Wikia is a free-to-use site that makes money from advertising. We have a modified experience for viewers using ad blockers

Wikia is not accessible if you've made further modifications. Remove the custom ad blocker rule(s) and the page will load as expected.